With 24 days left before Election Day, more than a dozen Greenlee County candidates took part in the Greenlee County Chamber of Commerce's candidate forum Saturday night at Morenci High School.
Every candidate running for sheriff, supervisor, accessor and school superintendent were given an opportunity to introduce themselves and answer — within two minutes each — two questions.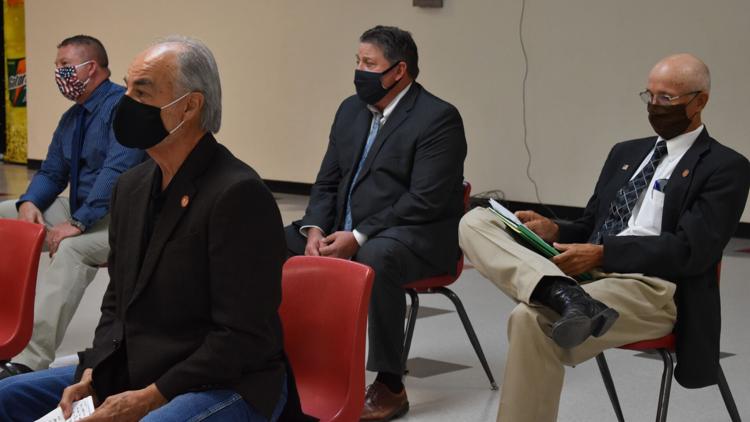 Due to COVID-19 restrictions, seating was limited to candidates, media members and a few candidates' family members. However, it was streamed live on the chamber's Facebook page.
Sheriff candidates Eric Ellison, a 24-year law enforcement veteran, and Jaime Aguilar, who has 30 years in the field, both touted their experience. Larry Avila, who is also running against incumbent Sheriff Tim Sumner, was unable to make the event due to a family emergency.
"My goal is to bring trust and security back to Greenlee County. We haven't had trust and security. We see throughout the nation we have a divide against law enforcement. I want to bring the community back together," Ellison said.
The former DPS trooper said he also wanted to bring school resource officers back into the classroom, saying it is a national standard.
The deputies within the office also need more guidance and organization, Ellison said.
He further claimed there is a growing drug problem in the county that is not being addressed.
"We are lacking structure in our sheriff's office. Right now we don't have structure so our guys, they're not being guided properly," Ellison said. "If you're very organized you're going to be able to address those crimes, address those issues that afflict our county."
Sumner said he brought in an experienced undersheriff to help him train his deputies on drug investigations and over the last four years the amount of drugs flowing in Greenlee County has slowed down greatly.
He didn't name the undersheriff, but he was referring to Ellison, who worked for him for a couple of years.
Sumner also said his deputies do have a presence in the schools and he also said only 20 percent of schools nationwide have a dedicated SRO in them.
He disputed Ellison's notion that the office is unorganized.
"When I was elected in 2016 immediately I got to work, working very diligently on a strategic transitional plan one that had never been seen before," Sumner said. "I actually created an organizational chart to have structure because this was not ever created before."
Sumner stressed the importance of consistency and said his goals remain unchanged. He wants to continue working in the schools and on the drug problem.
He urged people to look at what he's done.
"It's only going to continue to get better," Sumner said.
The sheriff also said he will continue to protect people's rights.
"You need a sheriff who is going to stand tall, you know where they stand and they're not going to waiver on where they're at and will standup for your freedoms and will stand up for your rights and will be the sheriff you're going to need in your corner and at your back when it comes time for that," he said.
The candidates in the District 3 Board of Supervisors race, incumbent Richard Lunt and Suzanne Menges both said they would like to see smart growth in the county.
Lunt said he's spent a lifetime serving others.
"The world is run by those who show up and I show up," he said.
Economic development is tough, but he and his fellow supervisors have been working hard on the issue and they'll continue to do so. If the county can get more houses built, the rest will follow, he said.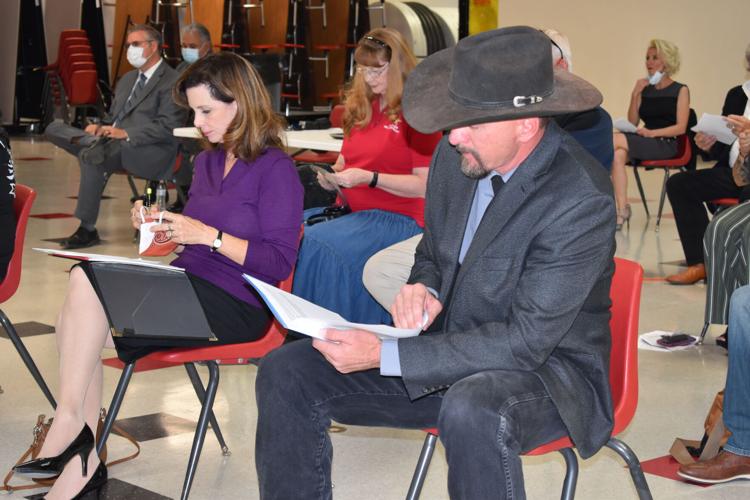 He stressed the importance of working together and forming coalitions.
Menges told voters there is a big difference between her and Lunt.
"As we move into the home stretch of this campaign, it's become very apparent to me that the race in the county supervisor position for District 3 is that of contrast," Menges said. "The incumbent is running for his fourth term in this position and I want to thank him for his time and service. I am running for office for the very first time. We have a contract between what has been done and what can be done in the future."
She urged people to visit her website to look at her plan to "Revive by 25" the county. She said she'd work hard on economic development while also preserving the area's "small-town atmosphere, comradery and community spirit."
Menges said she believes Duncan is often overlooked and "it doesn't have to be."
The candidates for the District 1 Board of Supervisor position — incumbent David Gomez and challengers Nicole Horn, Jacob Brinkley and write-in candidate Shane Dunagan — also stressed the need for additional growth.
Incumbent David Gomez said the county has made "huge strides" in the last decade due to its economic development office. He pointed out the county has issued 53 permits for manufactured homes and 24 for "residential stick-built homes" since 2015.
"This gives you an idea that there is homes going up, but we do need a lot more. There is still 850 miners without a home,"' Gomez said. "Also, ED is not easy. Economic development is not easy at all. I know because I've been working on it for 12 years, especially for a small county that is at the end of the road. We have worked very hard to get to where we are at and we've had a lot of challenges."
Still, Gomez said he'd like to continue working on the issue. He knows a lot of people who left the area following the flood in 1983 who would like to come back to the county, but more homes need to be built.
In addition to bringing in new businesses, Brinkley said he'd like to help existing small businesses get through the pandemic with grants and tax breaks.
The county doesn't capitalize on its rich history nearly as much as it should and that history could bring in a lot more tourists, he said.
"There are a lot of stories to be told," Brinkley said.
Dunagan believes the county would benefit from a high school internship program, job training programs and further development of the county's parks.
Aside from growth, Horn said she'd like to see more resources for seniors and the county's youth.
JoAnn Cathcart and Doug Reed, who are hoping to replace Assessor Linda Durr when she retires Dec. 31, both said they wanted to improve the office's website.