Clifton Town Manager Ian McGaughey looked out the window of his new office at Town Hall on Wednesday, June 3, and saw Public Works Director Larry Barela struggling to load a park bench into the bed of a town truck.
McGaughey walked out of his office and offered Barela a hand.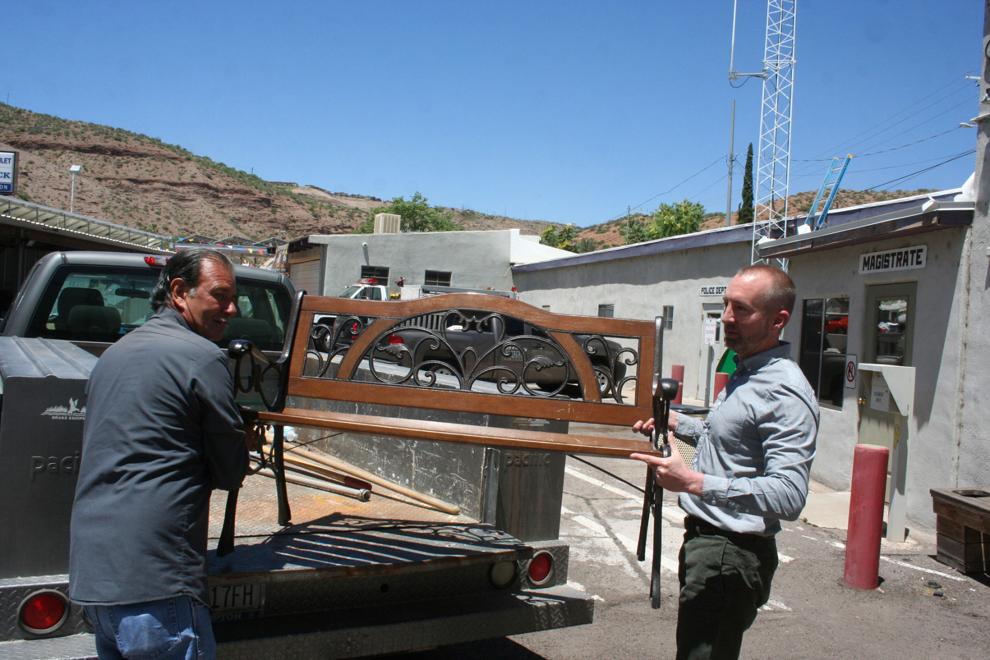 "Actually, that was a nice break after reviewing so many files and taking in all the information that John (Schempf, former town manager) is passing on to me. I'm learning more and more that, while there are some strong similarities in municipal government, Clifton is certainly unique in many ways. I am enjoying the challenge of learning the way the system works here," McGaughey said.
It was his third day on the job. McGaughey, 45, officially became manager on June 1, and Schempf, 75, is staying on with the town temporarily to ease the transition.
McGaughey was hired in early April by a unanimous vote of the Clifton Town Council. He was selected from a field of 40 applicants. He previously worked in Alaska for a tribal government there. He will receive a salary of $75,000.
"I actually took a pay cut from my job in Alaska because, to me, being able to come to Clifton was well worth it. I fell in love with Clifton when I first came here earlier this year, and I feel this is the place for me to be," McGaughey said.
McGaughey previously lived in Arizona in the Phoenix area for about two years before moving to Alaska. He is originally from Vermont.
"I've only been here a week and admittedly have a great deal to learn about the specifics of Clifton's town government and its citizens. I'm grateful for the rare opportunity to be in the position of an incoming town manager receiving the guidance I have been from the outgoing manager. It helps a great deal," he said.
McGaughey said he sees development of a master plan for the town as a priority.
"I understand a master plan was begun a few years back, but it never really was followed or acted upon. That's something that is critical. Where do we plan to be and where will we be in two, five or seven years down the road?" he said.
The master plan will focus on planning and zoning, historic preservation, infrastructure replacement and improvement, flood mitigation, economic development and recreation.
"A person hears a lot about economic development and, while those efforts certainly are important, so is something for kids to do locally. I think the splash pad that's about to open is a great idea because it gives our kids at least one form of recreation that isn't currently available," McGaughey said.
During the first week on the job, he'd met five of the seven-member Town Council.
"I hope to get to know them well and follow their direction. I believe council members will find me easy to work with," he said.
Vice Mayor Luis Montoya is among those who have had a chance to talk with the town's new manager.
"I think we made a good choice in hiring Ian," Montoya said. "I think he's a really, really personable guy and will work well with the council and our citizens. He is a 100-percent people person. He seems really energetic and appears to have valuable personable traits."
Montoya wants to see McGaughey usher in an era of growth in the community and believes that one of McGaughey's biggest challenges will involve "being as progressive as possible. I see it many places, including with the council, our citizens and myself, personally, that too often we're just satisfied with the status quo. I know other councilors, and I want to see Ian help create change and make a difference in moving our town forward.
"I think one of Ian's biggest assignments is to challenge the status quo (to) help guide us all in creating and accepting change," Montoya added.