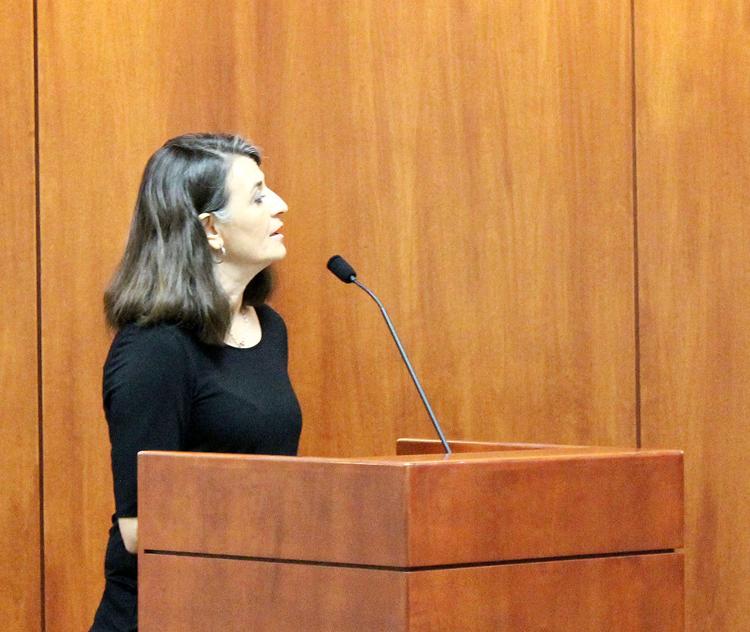 SAFFORD — A staffing crisis looms at the Graham County Courthouse.
This year, the courthouse's 103rd, seven employees have resigned or transferred from the Clerk of the Superior Court's office — no small loss for a staff of eight to nine.
"Unfortunately, we have experienced a great deal of attrition," said Superior Court Judge Michael Peterson. "It has significantly impacted our operations. We lost two outstanding court clerks, along with several others. It's very difficult to replace that level of expertise and experience quickly."
Those losses have followed the November 2018 election of a new Superior Court Clerk, Cindy Woodman — and not coincidentally, according to a former employee who requested anonymity. The employee described the office as a "toxic" work environment.
The employee said there was miscommunication between Woodman and her staff and that they (the employee) felt "bullied" by the new clerk. The employee said Woodman once "got agitated" over paperwork she believed was on the employee's desk, but was not. In another case, the employee said, Woodman confronted the former employee over locking a door.
"I had locked the bottom but not the deadbolt, and then I'd come back around and do the deadbolt. She just got upset because it wasn't locked all the time. It was, but the deadbolt just wasn't locked."
A co-worker was asked by the former employee to accompany the former employee for one "talk" with Woodman.
"I didn't want things to get translated into what it wasn't. I didn't want things to get out of hand," the former employee said.
In an effort to address the problem, the county contracted with former courtroom clerk Mindy Wriston, who worked in the office for a number of years, to train new hires and fill in as a clerk.
"In the past, she's done a really amazing job for us, and she actually has brought up some points that will be beneficial to both sides of the bench," Woodman told county supervisors, who ratified the contract at the Board of Supervisors' Aug. 5 meeting.
"This is a stopgap measure until we can recruit, hire and train more clerks," said County Supervisor Paul David. "She's doing some training currently and is keeping the courts open. Our Human Resources Department is working as quickly as they can."
Unfortunately, Wriston will not provide a long-term solution; she will soon leave Arizona to attend the birth of twin grandchildren.
"She has been vital to continuing the operations of this court," Peterson said. "Thankfully, the people that are still here have worked very hard to keep up with the workload. We've been able to take up the slack for the time being."
He added, however, that the court remains on "the razor's edge" of a staffing problem.
"We are finding it difficult to retain people," he said.
Testifying in a July 24 Superior Court evidentiary hearing, Woodman said she had little training for her duties. She said she had completed two days of job shadowing in Pinal County, with a third scheduled day falling through. According to the former employee, however, Woodman was unwilling to learn from her more experienced clerks.
"I don't want to be mean or anything, but she didn't want anyone's help when everyone would try to help her," the former employee said. "Even if you were trying to communicate and explain something to her, she just shut you down real quick. She assumed that everyone's attacking her, and everyone's just trying to help her.
"She wanted to change everything into how it wasn't supposed to be changed. She wanted to make switches and change things that shouldn't have been changed, and it shouldn't have happened because it just tore down the office. No one knew their position because everything was changed."
In the July 24 hearing, Woodman said she believed the recent turnover rate was comparable to that of previous Superior Court Clerk Darlee Maylen. The former employee disagreed with her assessment.
"Darlee lost seven people in two years; Cindy has lost one person almost every single month since she started working, so that's completely different," the former employee said. "People left Cindy because of the way she treated her workers and how she made the office feel."
Woodman did not reply to the Courier's requests for comment.