A number of artists and comic book creators will attend Gila Valley Comic-Con, March 22-23, on the campus of Eastern Arizona College.
We reached out to artist David Bell Jr. to learn a little bit more about his process.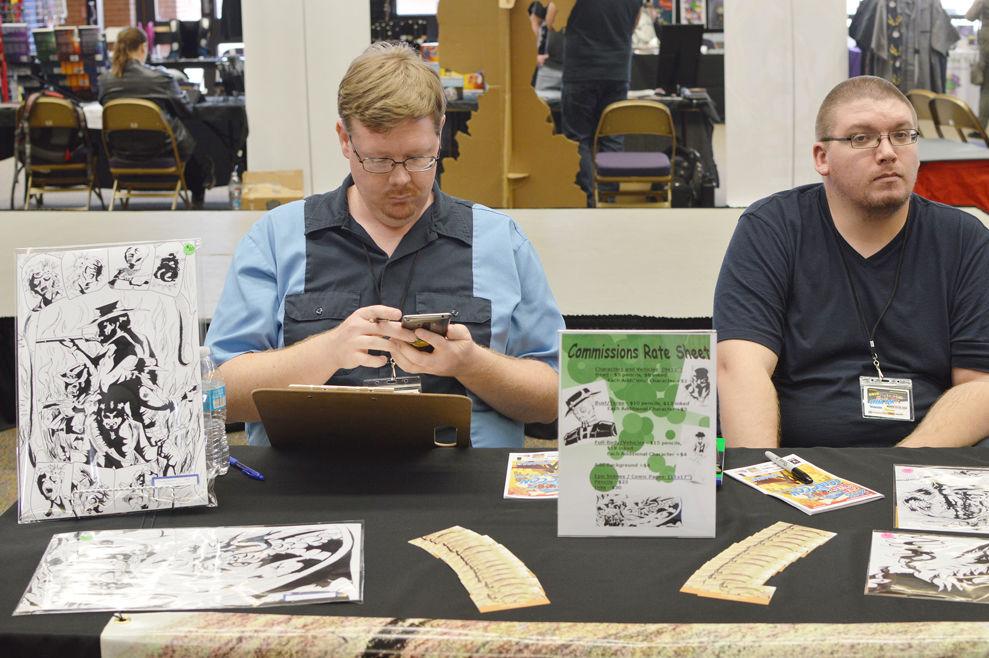 Q: Please tell us a little about your background in comics/art, projects you have worked on and projects you are currently working on.
A: Well, I may not have any official background in comics or professional art, but I have been a lifelong fan of the comic book medium and aspire to be a creator in the field. As for artwork, I've been drawing for just as long; what started as a hobby for me has evolved and grown into a great career prospect that I'm more than happy to pursue.
As for my current projects, aside from prints that will be made available for purchase at my table and online at my web site, I am currently working on a graphic novel project that I am writing and drawing, as well as a campaign series for Dungeons and Dragons fifth edition that I'm hoping to get published.
Q: What is it about the medium of comics that attracts you versus the fine arts fields, such as painting or sculpting?
A: Well, initially the big draw for me were the capes and tights; the larger than life characters facing down perilous threats to not only the Earth, but sometimes every Earth. Now, looking at comics as a creator and not just a fan, I think the biggest attraction for me would be the freedom that a comic book grants.
Making a comic book is, in my eyes, very much like approaching a movie studio with a big summer blockbuster idea, and being given an infinite effects budget. There are literally no limits to what you can put on the page or pages beyond those of your imagination, and that is so appealing to me.
Q: What are your thoughts on writer/artists? What does writing your own stories do for you in terms of your design process? When you work with a writer, do you prefer co-plotting, being given the plot or working from full script?
A: Well, the first project I'm working on is one where I'm writing and drawing myself, so I can't really speak from experience about how that changes the design process. That said, I have researched a myriad of different ways to plot and structure a comic book, and from what I've gathered, pulling double-duty reduces the amount of description needed in a script by a massive amount. As a writer only, you have to convey your ideas in great detail to the artist, but as both, you have the ideas already in your head and, unless you're forgetful, don't need to put too much down on paper.
In regards to how much freedom I would want if I were working with a writer, I would think that co-plotting or working from a plot layout would be best because comic books have always been a cooperative medium in my eyes. Just look at the cover to any comic book on the shelves today and you'll see a handful of names of people that worked on the book. That takes a lot of communication and bouncing ideas off one another to make it work!
Q: Do you prefer to craft your art "old school" with pencil and ink, or have you transitioned to digital via tablet? Why?
A: Oh, I'm an old school artist at heart, but I'm dipping my toes into the digital pool slowly but surely. There's just something so fulfilling about working with something physical in your hands to create anything you want.
Don't get me wrong, digital art can be really great, but there's that slight disconnect because of the screen that takes away some of the magic for me.
Q: Social media and digital have made it easier to get your work in front of potential fans and buyers, but they have also created a very full field of creators competing for attention. What are you doing to get your work noticed, appreciated and purchased?
A: Admittedly, the social media aspect of this job is something I'm still trying to wrap my head around. I've got some followers on Twitter, Facebook and Instagram (big thanks, by the way, to all my followers out there), but I'm still trying to find new ways to send some more threads out there in the digital world. Thankfully, the web hosting service I use has a ton of new tools to help get my work out there, so I've been studying up on those.
But the day we stop learning is the day we stop progressing, so I say keep the lectures coming.
Q: It seems almost every creator-owned work today is formulated as both a comic and a movie/TV pitch. What are your thoughts on the current fascination with comic book properties in film and on TV — will it last or do you see another trend taking its place (and if so, when)? Do you see your work making the transition to the screen or do you want it to remain exclusive to comics?
A: You know, that's kind of a mixed bag for me. On the one hand, I really do enjoy the comic book movies and shows we keep getting (well, most of them, anyway), and think that, in most cases, they do a pretty good job of adapting the comics while adjusting them to fit in the format. 
On the other hand, some projects I think really need to stay firmly entrenched in the comics medium because they're built for that and nothing else.
Q: Tell us about the project(s) you are currently working on, and where can people purchase your work.
A: As I said before, I'm currently working on a graphic novel entitled "The Far Side of Infinity," which will be a wacky romp through the myriad worlds of imagination and what it truly means to create something.
I'm also working on a campaign setting for Dungeons and Dragons fifth edition that will explore the nature of ideas and how they change us, for better or for worse. Keep your eyes open for news about both of those projects on my website: rhinosdenart.wixsite.com/artstore.