THATCHER—The second annual Gila Valley Comic-Con brought more booths, more entertainment and more sparkle for locals to get their geek on.
Many new artists and booths were on hand for the Friday and Saturday event. Held at the Eastern Arizona College Activities Center, this year's convention boasted new special guests Brian Augustyn and J Gonzo. Augustyn is the author of the graphic novel "Gotham by Gaslight," which was adapted into an animated film in 2018.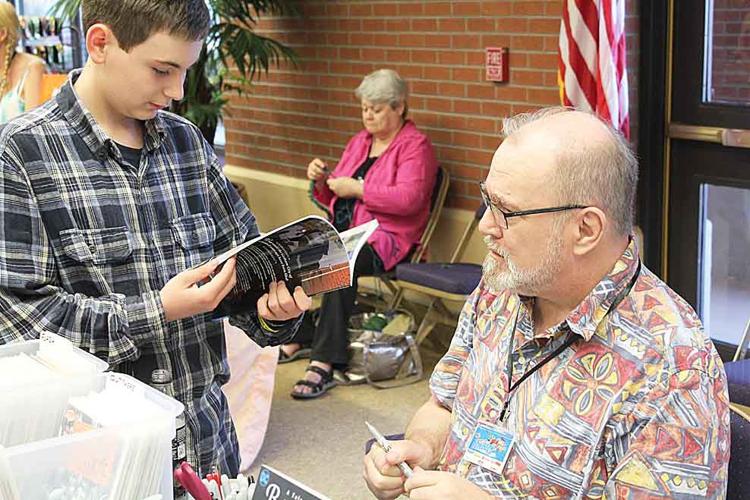 "I've been doing this for 35 years, both writing and editing. I've worked for DC primarily, but I have worked for Marvel. I'm still at it primarily because I love it and primarily because the ideas go away," Augustyn said. "I particularly like little shows where things are just getting started. This (Gila Valley Comic-Con) is a good show; it's a nice energy. I always like to see little kids at a con. I like to see that enthusiasm go from generation to generation. I like coming to new shows; we have the Phoenix show every year. That's the hometown show and that's a big one. But we love little shows as well."
Augustyn was at the Stargazer 5 Theater on Thursday night for a special screening of "Batman: Gotham by Gaslight," the film based on his graphic novel, and took questions about his writing career. "For me, the best work comes out of collaboration," he said. Augustyn also discussed differences between his novel and the movie, which he had not seen on a big screen before. "Seeing it here, it was like a whole different movie."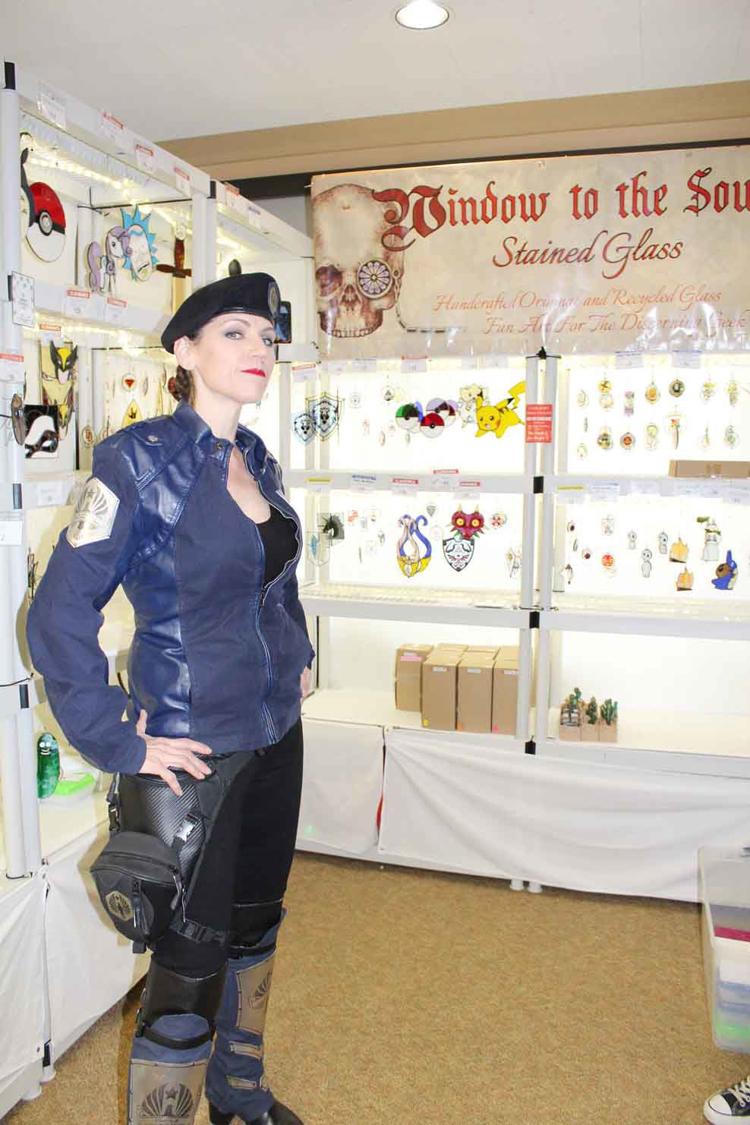 Gonzo has spent more than 20 years using his skills as an advertisement designer for toys and comic companies. At this point, Gonzo is freelancing and creating his own comic e-book series titled "La Mano de Destino." While at the convention, Gonzo held a presentation on graphic design in comics.
"I put my money where my mouth is (by self-publishing). And I think investing in yourself is kind of a good move. It kind of shows some faith in your own talents. It's like you're asking people to spend money on your own stuff; it's more like I trust me, do you? And being able to let me do my own thing has allowed me to make it exactly what I want it to be.
"This is my first year. It's pretty cool; everyone seems really engaged. The community seems to be stoked to have something here. It's kind of a smaller show, but it's a good variety of people that are here," Gonzo said.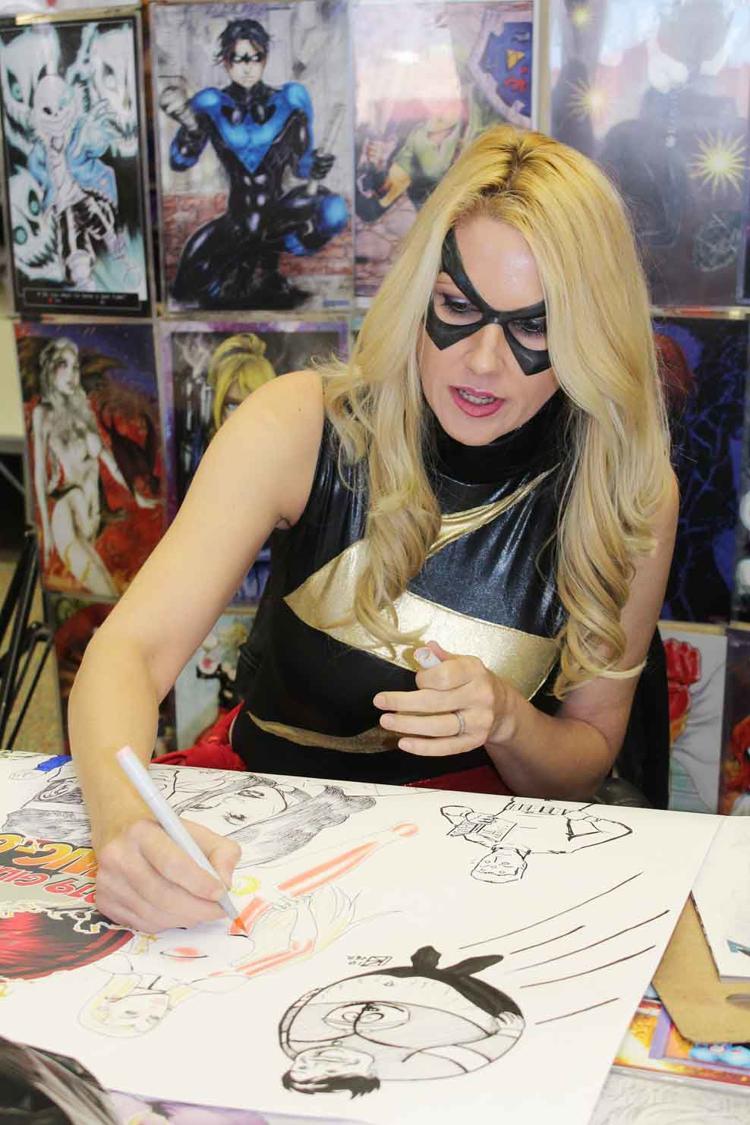 A returning special guest, professional cosplayer Cara Nicole paticipated in panels and even performed some stand-up comedy.
Aside from panels on multiple topics ranging from cosplay to comic design, podcasters Carpe and Zen also made a return appearance. New additions to the convention were the LARPing (Live Action Role Playing) band Wyvern's Roost, as well as a functioning laser tag arena by Ultimate Lasertag.
The costume contest returned with fierce competition between outfitted adults and children alike. It featured heroes, villains and the enthusiasm only fans can have. Cindy Young took home first place in the adult costume contest category as Princess Amadala in her red throne room gown. Young told the Courier her costume took months to make.
"This is our very first con ever. We just love Halloween costumes, and I spent all the time and I thought, 'How come I never wear these anywhere else? Where else can I wear my costumes? I want to start a costume rental company; I spent all the time and effort on these costumes. I can't just get rid of them," Young said. "This was so much fun. It was so much fun to see everyone else's costumes; there were some amazing costumes that we were up against."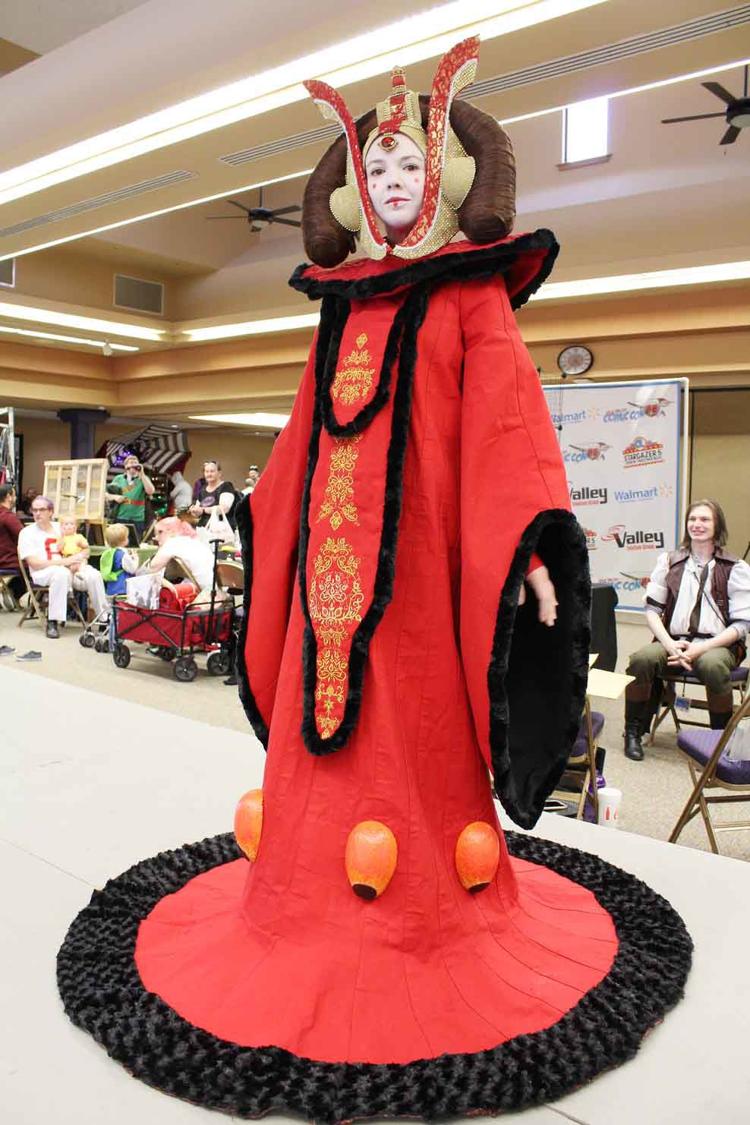 For the first time ever, the Gila Valley Comic-Con held a steampunk costume contest. The winner of the contest was presented the prize of a steampunk-style chair by Roycycled Treasures.
April Sutton, of the Traveling Cabinet of Curiosities, was one of the judges for the steampunk contest. Sutton said deciding the winner of the contest came down to the details.
"They all had such good characters walking up and into that stage, and they were fully in that character; and I wish they all could have won because they were all so good," Sutton said. "All the detail (in the winner's costume): the absinthe, the cane that he had with the top on it, the cat ears that were on the hat, everything. It was the swagger that helped him win."
"It (the convention) has expanded; it's doubled in size, tons more vendors, and I can't wait for the costume contest to see how it compares to last year," Nicole said. "The con is fantastic. I think it's a great opportunity for people in your community to get a taste of comic-con without having to travel far and spend a lot of money. A lot of the con vendors that are here come from other places. Many of these artists have come in from Phoenix, so you have a really good group of vendors and creators that you know all came out here to bring you a taste of comic-con."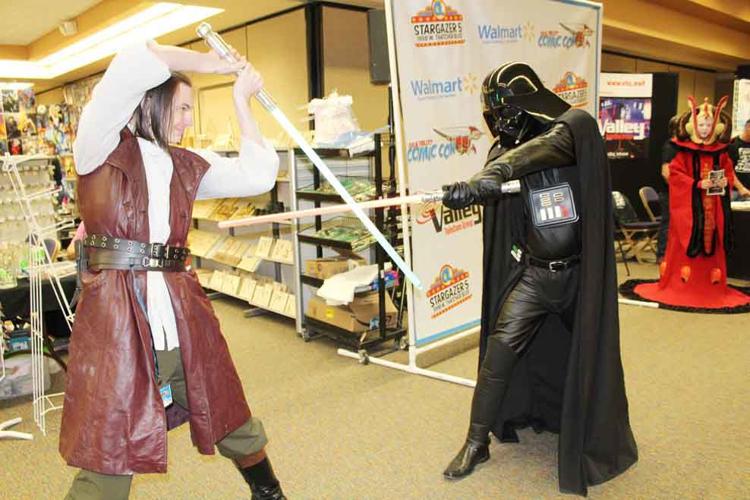 Safford High School film creation also attended the convention, filming a piece specifically on smaller comic conventions and attendees within the community. The class had been working on the project for more than a month and spent a great deal of time at the convention. After interviewing attendees, participants and Eastern Arizona Courier Managing Editor David Bell, the students will compile the video they collected and edit it into a finished film to be shown at their annual film festival in April.
"I would say it was a better year. We definitely did better on Friday; we haven't run the numbers yet for Saturday, but we had a bigger attendance on Friday. We had more vendors than we had last year, and we had more activities than we had last year. I have to qualify this as a success. I think it was a great convention, and I think that people that came enjoyed themselves; at least, I hope they did," Bell said. "We've already selected our dates for next year, so the third annual convention will be March 27-28, 2020. We'll be back here on the campus of Eastern Arizona College, and we're looking forward to an even bigger convention."
David Sowders contributed to this article.