PIMA — The setting for Alvin Kempton's birth was Nauvoo, Ill., and the time was Oct. 1, 1844, less than four months after LDS prophet Joseph Smith and his brother, Hyrum, were martyred while incarcerated in nearby Carthage Jail. Alvin's parents were Richard Kempton and Caroline Bradford Kempton. Richard's paternal lineage in the United States goes back to 1623. Richard was a carpenter who helped in the construction of the Nauvoo Temple and who came to an untimely death in an ice house accident when Alvin was less than 2 years old.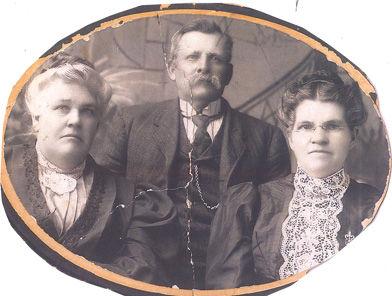 At the time of Richard's passing, he and Caroline were making preparations to go West. Caroline's brothers came to take her and her young son back to their home, where she would be well taken care of. She declined, opting to go West as planned and cast her lost with the "saints."
A good family by the name of Curtis Bolton made room for them in their wagon to Winter Quarters. From there to Council Bluffs, Iowa, Joseph Hancock made a berth on his handcart for Alvin, while Caroline walked along beside it.
While in Council Bluffs, Caroline met and married a widower named Erastus Harper Rudd, who had three small children. They moved to Harris Grove, Iowa, where they lived for a few years, emigrating to Utah in 1852 with the Robert Wimer Company. Alvin was 7 and walked barefoot most of the way. One day, he fell, was run over by a wagon and suffered three broken ribs. That injury was the source of pain the rest of his life.
The family located first in Bountiful, then Farmington; then due to the Johnson Army trouble in 1857, Brigham Young advised the people to move south to avoid confrontation with the army. Alvin made five trips helping people move, and his family made Payson, Utah, their home. In 1863, his stepfather passed away from diabetes complications. As Alvin was the oldest, he took over responsibility for his mother's family. He had learned carpentry from Mr. Rudd; with that, coupled with laboring for different farmers and with his mother making and selling candy, they did fairly well.
Alvin served in the Black Hawk Indian War, then returned to Payson and married Sarah Jane Curtis at the New Year's Dance at 12:01 a.m. on Jan. 1, 1868. They saved their pennies and were able to go to Salt Lake and be sealed in the Endowment House on Nov. 7, 1870. Sarah Jane was born Sept. 28, 1847, in Keg Creek, Pottawattamie, Iowa, the daughter of Joseph Curtis and Sarah Ann Reed Curtis. As they, too, had been driven from Nauvoo in 1846, Sarah was born while they were in Iowa, before traveling on to Utah.
Work was wherever Alvin could find it. They moved to Pond Town (later called Salem). He built a two-room log house and made all the furniture. He and Sarah lived in one room, and his mother and her three children, still at home, lived in the other. His mother, Caroline, became the first schoolteacher in Salem. Here, Alvin raised grain, which they harvested by cutting with scythes, shocking it, threshing it by putting it on canvas and beating it with sticks. They would then toss it up in the wind until the chaff was blown away, leaving the grain clean and ready to be sacked for market.
The coal mines at Tintic were a source of money. Alvin also worked for his Uncle Nathan Kempton in Spanish Fork. Nathan was a carpenter engaged in furniture and cabinet making. They returned to Payson, then spent time in Burrville, where Alvin was the first superintendent of the Sunday School. Then came a move to the Grass Valley area, where Alvin worked at logging and had a dairy. They hand-milked 60 cows and sold milk, butter and cheese. By this time, five children had joined their family.
Some relatives and friends were called by Brigham Young to start settlements in Arizona. The Kemptons decided to accompany them, arriving at Brigham City, in the fall of 1880, where they lived in the United Order. Here, another daughter was born. Alvin used his team, wagon and scrapers to do grading work for the Atlantic and Pacific Railroad, then to haul water to the grading crews. They lived in a tent, these jobs being in the vicinity of Sunset Crossing, Dennison Switch, Winslow and Cabdel Hollow. The family returned to Brigham City, and Alvin used his teams freighting and hauling supplies to the railroad camp. They went to Forestdale for a brief period, then joined a group locating to the Gila Valley, arriving in Curtis (now Eden) in 1882 after a harrowing trip due to hostile Indians. Alvin helped build the stockade, where they lived for a year.
After homesteading 160 acres, he utilized his carpentry skills to build a home and furniture, where four more children joined the family. He dug a large ditch with its own heading from the Gila River, called the Kempton Canal. Using homemade instruments, Monroe Curtis surveyed it.
In 1883, the family moved over to Smithville (Pima) for better schooling opportunities. The next year, Zetta Jane, age 8, took sick and died. Five days later, 3-year-old Delia Caroline also died. The other children who were sick recovered from what was called membranous croup, known today as diphtheria. While living in Pima, Alvin was one of the workers who constructed the "white rock schoolhouse" which was used for many years. Others on that project were Joseph Greenhalgh, Gilbert Webb, Hyrum Weech, W.W. Crockett and Bill Carter. These men also made the sturdy benches of split logs with holes bored in to put the legs. This building is the oldest standing schoolhouse building in Arizona, being built in 1884. The Strawberry School is the oldest standing log school, being built in 1886. After a larger school was built, it became a private residence, first the home of Hyrum and Elizabeth Crockett and later the Foutz home, where Lois Foutz grew up and became the wife of Lamar Kempton, one of Alvin's grandsons. Current owners are Ron and Sandy Leavitt, who are engaged in extensive remodeling.
Alvin and his family moved back to Eden in 1885, with Alvin again taking up freighting. In 1896, he was called on a mission to England for The Church of Jesus Christ of Latter-day Saints. After returning, he served the community as postmaster for 14 years, justice of the peace for five and was the Eden Ward bishop for 11 (1903-1914). He was a great believer in recreation, always on hand to help with any ward entertainment events. He was also an avid community worker, regularly assisting with the annual town cleanups, which usually ended with a dinner and dance. He liked having company, which made his children happy. Alvin passed away Nov. 29, 1917. Sarah Jane lived until July 21, 1939, and they both rest in the Eden Cemetery.
His 10 children and their spouses are as follows: Alvin Joseph and Emily Elizabeth Colvin; Richard Hyrum and Nellie Frances Colvin; Asa Bradford and Hannah Jane Oliver; Zetta Jane, died at age 8; Eliza Anna and Anton Christensen; Delia Caroline, died at age 3; Laura Sophronia and Heber Mecham; Zilpha Mariam and Charles Ernest Motes; Heber Curtis and Stella Hatch; and Calvin Ira and Alice Miranda Palmer. A multitude of their descendants still call the Gila Valley home.
This and other family and individual histories can be found at the Eastern Arizona Museum and Historical Society of Graham County Inc., open Thursday, Fridays and Saturdays, 10 a.m. to 3 p.m.