Main Street Café is a project of the Blake Foundation, a Christmas Seals affiliate located at Main Street and 6th Avenue in Downtown Safford.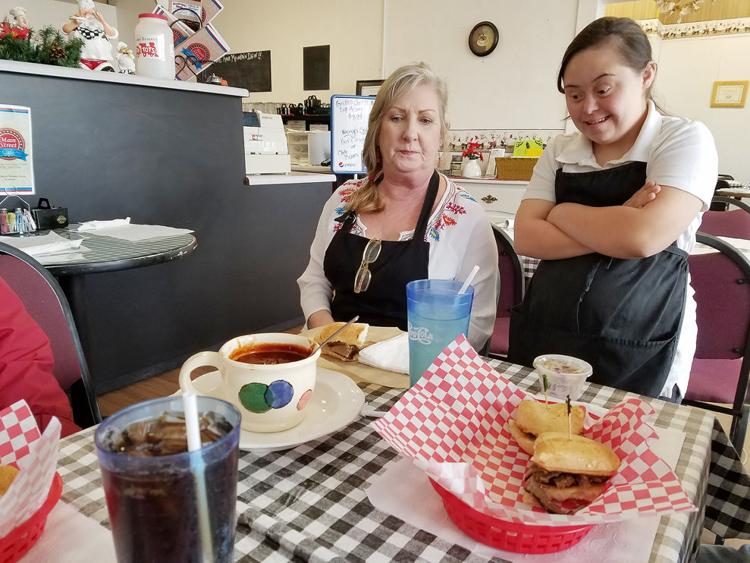 The café is a pleasant place peopled by four groups. Most important, there are both the sheltered workshop clients and the customers who've been frequenting the place since it opened about 17 years ago.
Then there are the employees, some who have also been around since the opening. I think it's accurate to say the employees are less the clients' surrogate parents and more the clients' supervisors. Why? Because while the employees certainly look after the clients' well-being at work, they spend more time ensuring that clients participate in preparing and serving food to customers.
Then there are two groups of customers, one group coming in regularly and, if they're retired, having coffee and sweet rolls with friends — often filling entire mornings with their conversation and laughter.
The other group of customers has a substantial stake in the community as, for example, Chris Gibbs, Safford's former mayor. Since Safford has no office space for the mayor to use, he often transacted business at a Main Street Café table.
Against this background, the café faces a variety of problems, a small one concerning its menu: The restaurant currently needs new recipes primarily because the menu hasn't changed for a while.
So I visited with Cindy Gilliam, the manager, telling her about two recipes I really like, one for brisket cooked sous vide (i.e., the meat, trimmed of all fat is cooked in a Ziplok bag in a 140°F water bath for 48 hours) so it is amazingly tender and juicy. I then braise the meat at a high temperature on a barbecue grill or under the broiler in a kitchen stove. When it is properly finished, all that's needed is to slice it thinly and add a barbecue sauce.
Lots of sauces work, but I'm especially fond of one relying on a standard brown sugar, ketchup and white vinegar base. This brew is spiced with soy sauce, minced ginger and some other things found in every kitchen in America, and one that's exotic: spiced rum.
This rum is acceptable to the clients and the Blake Foundation because it's added to the other ingredients as they simmer above 190 degrees, so the alcohol boils off. Indeed, you can see the alcohol vaporizing and, if you really want a thrill, you can light the vapor and watch the light blue color it produces. It's really pretty cool.
Result? All that remains of the rum are the ingredients that gave the rum its flavor — though now those things make an absolutely delicious contribution to the sauce.
The Main Street Café clients and employees tried the brisket and barbecue sauce the week before Christmas to consider whether it might appear on a future menu. And so I came in to simmer a brisket and returned two days later to prepare a batch of rum-enhanced barbecue sauce.
The meat was cooked as described. The barbecue sauce, however, was a different matter. Why? Because my former scoutmaster experiences boiled up like the alcohol in the simmering sauce, though, unlike the alcohol, I didn't want to burn the memories; rather, and just as I did with my Scouts when I was teaching them something, I asked if anyone wanted to join me in the new-for-them activity. And that is the real story I want to tell you about.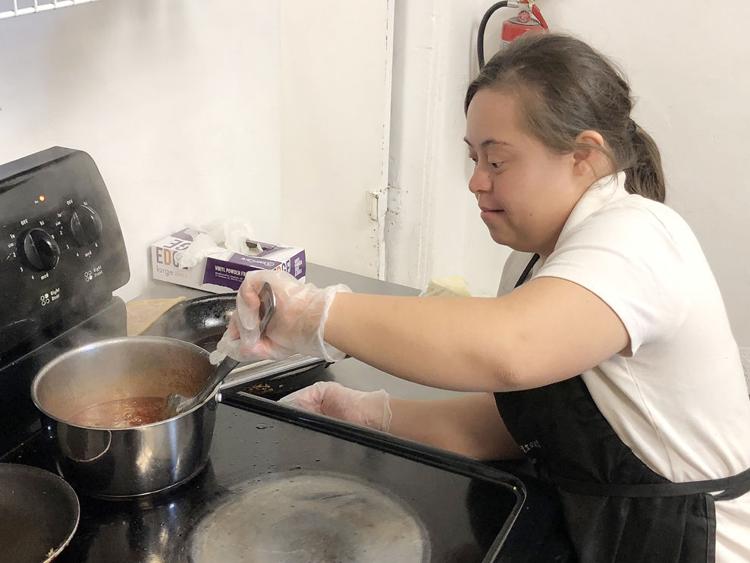 Several clients volunteered to help with the sauce, while a few employees, using hand signals and head noddings, encouraged me to ask Hope, a delightful young woman with a diagnosis of Down syndrome. Since the recipe involved cutting, mincing and grating, when we discussed what was to be done, I asked if she'd mind if I did the cutting and dicing and she'd added the cut-up ingredients to the simmering sauce. She shook her head vigorously, indicating that she certainly wanted to do things as described.
I measured out the ketchup, white vinegar and soy sauce, and she added them to the pot we used, carefully stirring them in. I commented on how well she stirred, and she nodded shyly in acknowledgement without taking her focus off her stirring.
Then I cut up scallions, and she was the picture of concentration as she carefully collected them together and added them to the pot. She did the same thing with the minced ginger, chopped garlic and the other ingredients. And then she stirred and stirred and stirred — a look of intensity on her face.
When the sauce reached 190 degrees, she added the rum I'd measured out, and the alcohol began evaporating. And she watched the alcohol vapors spiral as they left the sauce. Shortly thereafter, when the alcohol was gone, I took a teaspoonful and, when it was cool, offered it to Hope, asking how she liked it. Meanwhile, some of the adults who were watching us tasted the sauce, too, and told her that her sauce was super. She smiled demurely in agreement.
And she gave me a big, big smile when I told her as far as I was concerned, she'd made the barbecue sauce herself (she did do all the mixing, after all) and had done very well, indeed.
When I looked around, all the employees watching had smiles on their faces, seconding Hope's success with the sauce. In fact, we all agreed that she had made it, and that made her even happier.
The show involved in making the sauce over, I began to clean up. And that was when Hope tugged on my sleeve, and when I turned to her, she asked, "Will you be my best friend?"
"Of course," I told her, delighted.
And my smile reflected the big one that appeared on her face.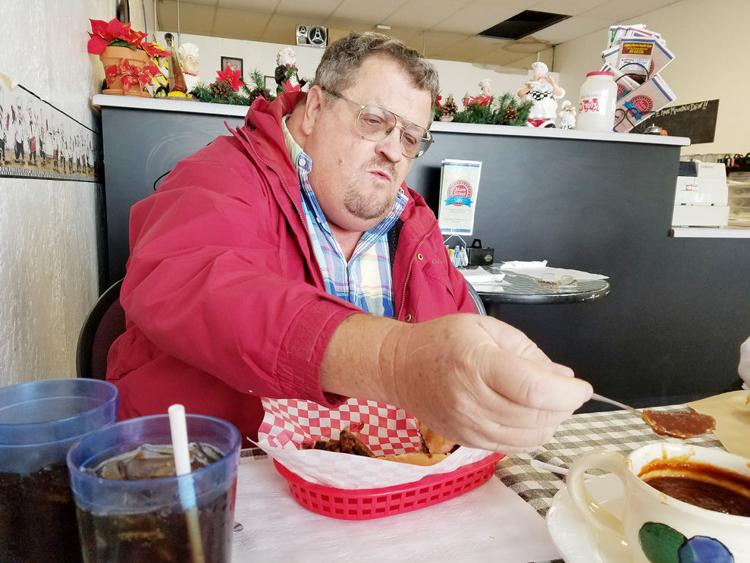 The next day, Chris Gibbs and David Bell, the editor of Graham County's twice-weekly newspaper, stopped by the Main Street Café to share their views on whether the brisket and sauce might contribute to a future café menu. Served these items on hoagie rolls, with sides of coleslaw and bags of chips, they'd begun waxing eloquent about the meal when one of the employees brought Hope over to the table. The employee interrupted the brisket connoisseurs' conversation to introduce Hope as the chef who made the sauce.
They both knew Hope, and so without preamble, they told her how good a job she'd done, adding that the brisket, while superb, was nothing without her sauce. She smiled shyly and modestly shook her head up and down in agreement.
After Hope walked away, I told Chris and Dave how pleased I was that Hope had asked me to be her best friend, and they responded telling me she'd previously asked them, too.
This didn't make sense to me since "best," as in "best friend," implied a uniqueness — that if I was her best friend, no one else could be.
Chris and Dave also quickly added that Hope had lots of best friends, and so I figured she probably hadn't considered that most folks had only one best friend at a time. In trying to resolve my confusion about what it means to be a best friend, I recalled a long-ago friend who once observed that his wife had a heart like a hotel, and so a room for everyone whose company she enjoyed. It occurred to me that he was describing Hope, too.
And that confusion resolved, all that's left for Hope, Dave, Chris and me is waiting to see if brisket and the sauce Hope made will soon be on the Main Street Café's menu.