The State of Arizona reported 2,992 new cases of COVID-19 Saturday along with 53 deaths.
The total number of people who have been diagnosed with the virus now stands at 177,002. Arizona has lost 3,747 patients since the pandemic started.
The Graham County Health Department announced Friday night that 27 more county residents have COVID-19, bringing the total number up to 492.
One hundred and eight residents have recovered from the virus; nine have died.
Greenlee County remains at 55 cases, with 22 recoveries and two deaths.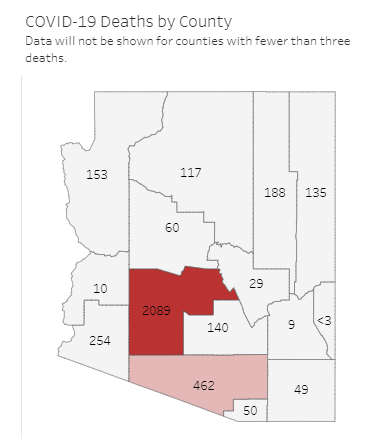 According to the state, Cochise County has documented 1,523 cases and 49 deaths. Cochise County authorities say 1,112 residents have recovered.
As of Friday, 2,226 people with COVID-19 were hospitalized in Arizona, with 710 in ICU and 490 on ventilators. On Thursday, 2,302 were hospitalized, the same number of people were in ICU and 505 were on ventilators.
The U.S. Centers for Disease Control also announced Friday that another 68,042 people in the U.S. have COVID-19, bringing the total since the start of the pandemic to 4,473,974. Another 1,216 deaths were also announced. The total number of people who have died with COVID-19 is 151,499.