Just hours after Gov. Doug Ducey directed all bars and restaurants in counties with COVID-19 patients to halt dine-in services, City of Safford staff members were following up on their promise to help  restaurants survive the pandemic.
Town Manager Horatio Skeete, Assistant Town Manager John Cassella and Public Works Director Lance Henrie were out on Main Street at 7:30 a.m. talking to restaurant owners and managers and placing signs announcing curb-side pickups.
Ginaveve Howard, owner of Ginaveve's Market Place, welcomed the action.
"I appreciate it very much. They've been active and accommodating," Howard said of the city. 
Howard said she feels lucky in that she already has an app so people can order food and coffee; many other business owners do not. Nor do they have a website like she does.
"I'm really glad I did it because it's helped us out a lot," Howard said.
She also noted her customers are welcome to call to place orders for food and everything else she has in her store.
She is determined to remain open as long as her employees want to continue to work and her customers feel comfortable coming, she said.
"They're the reason I'm open, so they can keep making payments and taking care of themselves," Howard said of her employees.
"I sent them all a text last night and I told them they don't have to work if they're uncomfortable...their jobs will be waiting when this is all over," Howard said.
All of them have expressed a desire to keep working.
"I've been blessed with upbeat, positive girls," she said.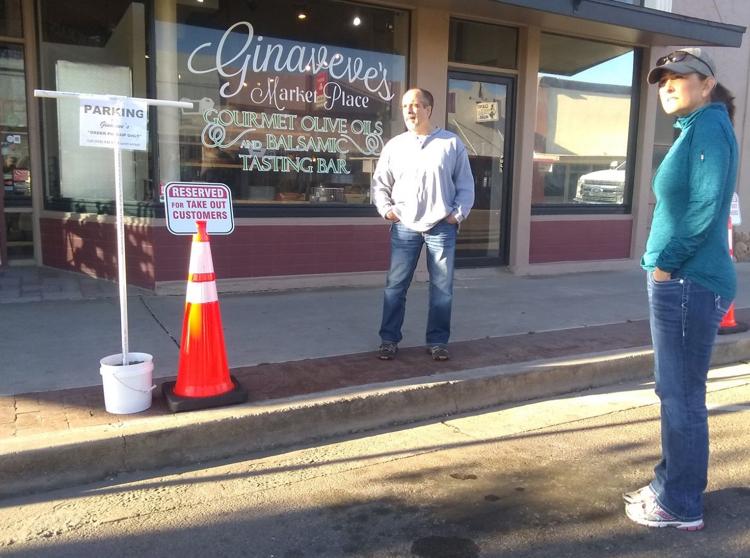 Down the street Thomas Biggs, general manager at El Charro, said starting today at 11 a.m. they'll be offering free delivery. 
"I have 50 employees and most of them would be out of a job right now, but they volunteered to offer free local deliveries," Biggs said. 
As for the general mood, Biggs said, "Everybody seems to be frustrated, but they're willing to roll with the changes for the safety of the public's health."
Cris Coronado, manager of El Coronado Family Restaurant, is thinking about starting up delivery services. Right now, they offer take-out and curbside delivery.
He has 19 employees he hopes he will be able to keep on payroll.
Reactions to the ongoing crisis are relatively consistent, he said. People are frustrated, but understand the need to socially distance themselves.
"My staff is a little discouraged and my clientele want to sit and dine, but they know we can't risk it," Coronado said. "If you look at the news in Europe and look at the death toll, it's a real issue. Plus, look at history with the Black Plague and the Spanish Flu."