Thatcher's Town Council unanimously passed a resolution Tuesday night to ask the Graham County Board of Supervisors to implement a mask mandate.
"Everyone is on board, everyone thinks it's the right thing to do," said Mayor Bob Rivera after the meeting.
The board is scheduled to take up the matter at a special meeting 8 a.m. Wednesday. 
Thatcher's council is just the latest government organization to pass such a resolution. The Graham County Chamber of Commerce board did so Saturday and Pima's Town Council did Monday night. Safford's city council has scheduled a special meeting for Nov. 30 to take up the matter.
During the meetings to discuss the mandate, the vast majority of the board members said they aren't fans of masks and they aren't fans of infringing on individuals' rights, but they have real fears that Gov. Doug Ducey will be forced to shut the state down again unless COVID-19 numbers start slowing down.
Rivera said that if the board passes a mandate individual business owners will no longer have to worry about losing customers to other businesses because they'll all be subject to the mandate.
"It will level the playing field," Rivera said, adding the sheriff's department and local law enforcement agencies would equally be responsible for enforcing the mandate.
The predominant fear is Arizona's health care system being overwhelmed with COVID-19 patients.
According to statistics released Tuesday morning, only 11 percent of the state's ICU beds are currently available and only 13 percent of hospital beds in general are unoccupied.
As of Monday, 474 COVID-19 patients were hospitalized and they accounted for 27 percent of patients hospitalized statewide.
The beds are not being taken by flu patients, either.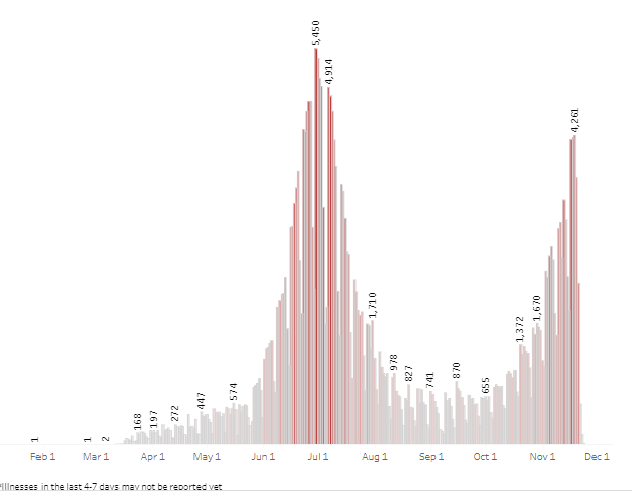 According to the Arizona Department of Health Services, there have been only 79 lab-confirmed flu cases since the season began Sept. 27. Normally there are about 390 by this point in the season.
Mt. Graham Regional Medical Center, which has 49 beds, was caring for 13 COVID-19 patients Monday, said CEO Roland Knox.
Fourteen acutely ill COVID-19 patients have been transferred to other hospitals within the last month, according to the Graham County Health Department.
Nearly 30,000 Arizonans were diagnosed with the virus Nov. 17-Nov. 24.
During a meeting in Safford Monday night,  Dr. Susan Jones, who works at the Gila Valley Health Clinic and Mt. Graham Regional Medical Center said if the COVID-19 numbers aren't brought under control, the clinic and hospital will lose the ability to care not only for COVID-19 patients, but regular patients as well.
To make matters worse, chances are good that Tucson's hospitals soon won't even be able to take Graham County patients either because of the surge of cases there, Jones said.
On a normal day, 17 patients normally fill the beds at Mt. Graham, Jones said. On Friday, the 49-bed hospital had 17 COVID-19 patients alone.
Lately, the clinic has been testing 29-32 patients a day for the virus and 20 percent of them have it, Jones said. 
Earlier this week Mt. Graham Regional Medical Center CEO Roland Knox said he has 21 staff members out due to COVID-19. Nurses are working extra shifts and the hospital is bringing in staff who are paid by the day.
"We have space to increase our number of beds, but are limited by the number of staff members we have," Knox said.
Melissa Lunt, a registered nurse with the Graham County Health Department, said there are several studies proving masks do stop the spread of respiratory droplets, which is how COVID-19 is spread. According to a study conducted in Kansas and released on Friday, COVID-19 cases decreased in 24 counties with mask mandates but continued to increase in 81 counties without mask mandates.