SAFFORD— Safford firefighters were called out to mutiple blazes over the last week.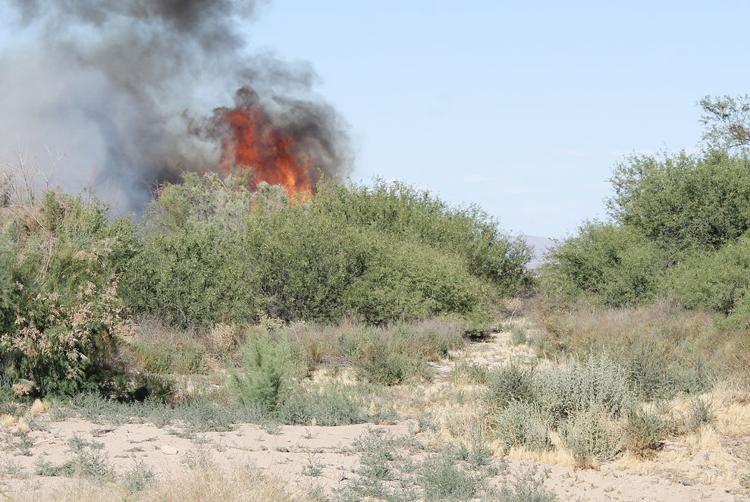 Last Tuesday, May 28, the Safford Volunteer Fire Department was called out to a brush fire on U.S. Highway 191.
"The fire has an unknown cause at this time," said Safford Fire Chief Clark Bingham. "We were dispatched at 1:30 p.m. and were out there until 4 p.m. The fire was about 200 feet wide and about 400 feet long. The crews are exhausted. They work their tails off, and they take pride in what they do. They work really hard."
The fire was located at the same property, 6945 South Highway 191, that saw a brush fire destroy a mobile home or large travel trailer used for storage, as well as about two acres of brush including an old tamarisk-filled pond. The fire also threatened a home on the property, but firefighters were able to keep the flames away from the residence despite windy conditions.
Bingham said this was the fourth fire the Safford Fire Department had been called to in less than a week. Some of the fires had reignition, and the crews had to return to the burn sites throughout the day.
Not only do these fires cause volunteer crew exhaustion, but also a substantial amount of wasted water. At Tuesday's brush fire alone, 10,500 gallons of water had to be used. If each fire used this amount of water, the Safford Fire Department had to use roughly 42,000 gallons of water in less than a week due to the constant fires.
Bingham urged Graham County residents to avoid starting any fires. The summertime temperatures have not yet reached high peaks, and fire crews are already exhausted.