Whether you see them standing beside a brush fire or driving a fire engine toward a structure fire, there are women in the Gila Valley gearing up and showing up.
The Pima, Thatcher, and Safford fire departments all have had women on their fire teams at one time or another. Currently, Safford and Pima have two women firefighters in each of their crews.
According to every woman department member interviewed, they receive no special treatment. All the firefighters go through the same training, have the same time requirements and receive the same pay.
The first Safford woman firefighter
Lori Ballesteros, 36, is a mother of two and works as a full-time firefighter and emergency medical services tech for the San Carlos reservation. She became Safford's first lady firefighters when she began volunteering on her days off in 2018. She often finds herself behind the wheel of fire engines.
"I am just a firefighter," said Ballesteros. "I'm just humbled by the situation from the beginning. I had to set the standard high for myself."
Initially, she began working in San Carlos in 2011 strictly as an EMS. Ballesteros was walking past the Safford Fire Department on a random Tuesday as the team did their training. She was invited in and she saw it as a great opportunity for certification.
Family legacies
Tiffany Weech, 21, has been with the Pima Fire Department since September of 2018. She works for her family's plumbing company as a day job. Her father and brother are both in the department as was her grandfather before he died. Weech considers volunteering with the fire department a family legacy. She is the first woman firefighter in her family, and decided at the age of 15 she wanted to follow in her family's footsteps.
"There's a protectiveness they have with us girls, which is a good thing, but they make me feel like a part of the family. They tease me, but they tease everyone," said Weech.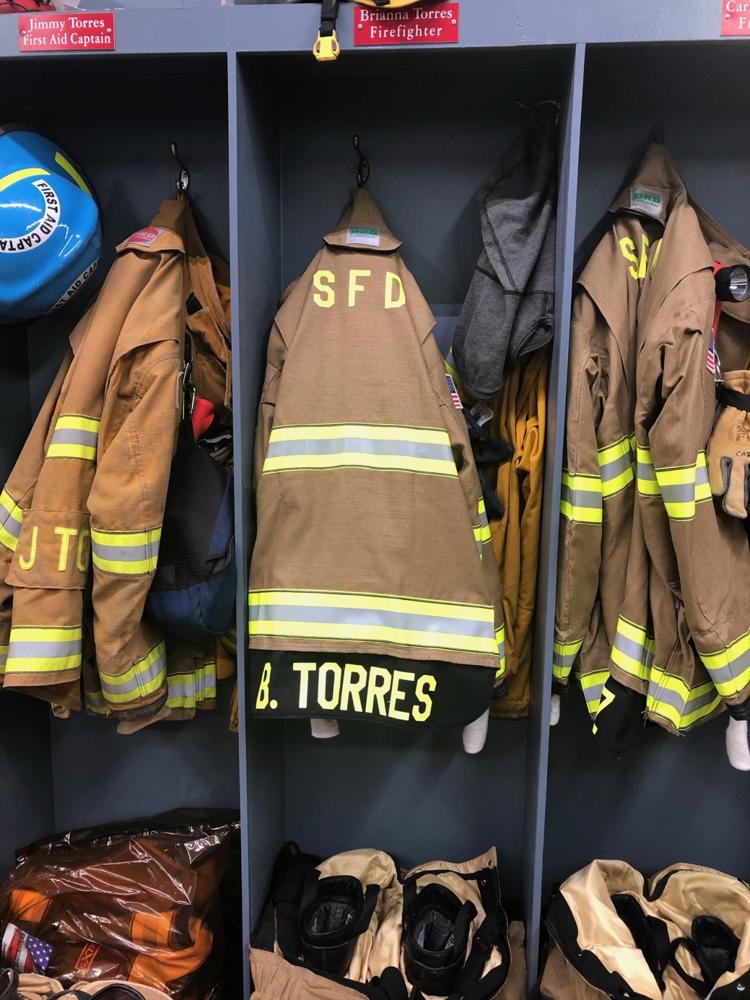 Brianna Torres, 27, will be with the Safford Fire Department for three years in September. Before COVID-19, she was a bartender as well as a firefighter. Her father has been in the Safford Fire Department for roughly nine years. Torres said she always wanted to be a doctor, firefighter and policeman when she was a child.
"I love it. I like the rush of it all, being able to help the community in different ways," said Torres, "I would encourage ladies today to do it. It's so fun."
Samantha Huish, 28, is a Pima volunteer firefighter, mom of two, an EMT for Greenlee County and an emergency technician for Mount Graham Regional Medical Center. She didn't start out wanting to be a firefighter.
"I was never really interested in it, I got in on the EMS side," said Huish.
Huish explained that she would attend fires as an EMT and wanted to go through the training to see what the fire crew was going through in order to help them when they needed it. It was during the training that Huish found her passion for firefighting.
"I like being hands on, and working with all the guys as a team. It's exciting, I like the rush," said Huish. "We're not treated differently. I'm right there in it with them."
Life and death situations
Fire can turn lives upside down, destroy homes, and in some cases take lives. Although the companionship, excitement and drive can keep firefighters coming back, the potential loss of life takes a heavy emotional toll.
For the past year the vehicle wrecks between Pima and Bylas have been particularly fatal, and Weech said that going to those calls have been one of the most difficult parts of being in the department.
"You know if you do something wrong, people could possibly die. We all text each other to make sure we are all OK and make sure the family affected is okay as well," said Weech.
As emergency medical personnel, Huish and Ballesteros are even closer to the victims of tragedy.
"When we go on all these wrecks if our patients doesn't survive that, it does take a toll on us mentally and emotionally. We can't show that on the scene, you know. We have to be the rock and we can't show that emotion, but afterwards a lot of us, it does affect us," said Huish. "We cry over our patients, we mourn them just like they're family. Sometimes it gets a little hard, but we have each other to talk to and we have our peer support program that is in place for those reasons."
Ballesteros stressed the importance of acknowledging the gravity of the situation and being there for her fellow firefighters in the moment of need.
"My experience is you're going to see good, you're gonna see bad. Most of the time you're not there on someone's good day," said Ballesteros. "You have to be able to see if you can handle certain things. Be that person that department needs. Be that person as a whole."
Physical hardships and emotional rewards
Ballesteros said the work of a firefighter is hard and each participant has to be physically prepared to wear the equipment in the extreme Arizona heat. However, even though the physical demand is huge, she feels as if she has found another family.
"It's good to work with people and just being able to serve the community. But it's also another family and traditions," said Ballesteros. "To me, you gain another family with good people, it's a bigger realm of family and it branches out."
Weech said her years of firefighting have helped her grow mentally and physically. When it comes to brush fires, Weech said she may be called to a fire and remain on the scene anywhere from five to six hours. In cases like these, hydration is a must.
"I know they have my back, they're kind of like a fire family. It has helped me gain confidence. When I do something for other people, it helps me know I did something good for the community," said Weech.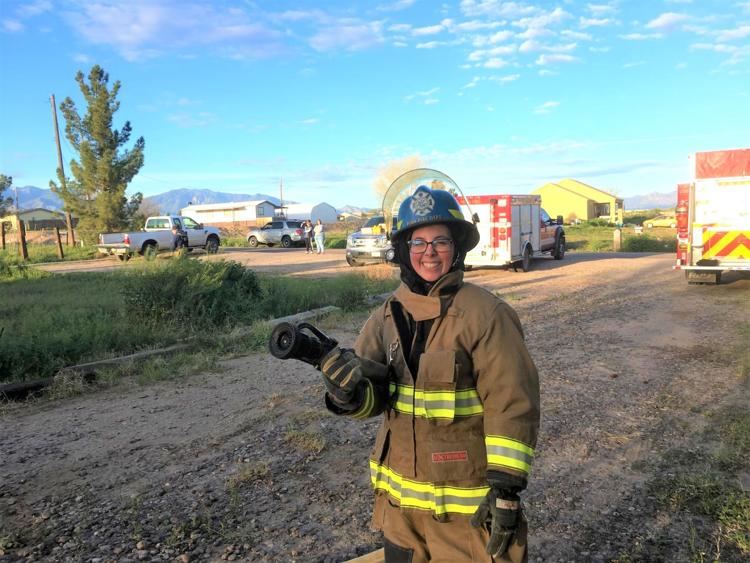 Huish also mentioned the Arizona summer heat as being one of the most challenging factors when it comes to firefighting.
"We have to remind each other to drink water," said Huish.
Parts of the job are just pure fun, though.
"The most rewarding thing that I think I've done in this department is when we do stuff for the school kids. We have the preschool come down to the fire station, we get to show them the trucks and show them our gear and teach them a little bit about fire safety. We just did that parade with the first responder vehicles, I was smiling ear to ear. I love seeing the kids happy and being able to do something for them and teach them. We're not scary people. We're here to help."
Torres especially appreciates training.
"All the training is fun, I love it," said Torres. "At first I was following my father's footsteps, then I found it has its own rewards."
Volunteers welcome
Pima Fire Chief Scott Howell and Safford Fire Chief Clark Bingham said their women firefighters are valued by their departments and make the firefighting families even more complete.
"It was just business as usual," said Bingham. "These two firefighters have been an asset to our department. They're strong mentally and physically, and they bring something different to our department. We are glad to have them."
Howell reiterated that his firefighters are treated equally no matter their gender.
"Training isn't altered. When you're fighting a fire it's the same. We do searches, put out the fire, there is no difference," said Howell. "As far as recruitment goes, we're always looking for more volunteers."
Howell did say, however, there's a certain calmness that Weech and Huish bring to his department.