Duncan Valley residents have known for years that ancient people once inhabited the area, but it wasn't until a Google Earth search in 2014 that archaeologists realized just how many lived here. Ever since, professors from the University of Texas at San Antonio have been spending up to six weeks every summer researching the area, and if not for COVID-19, they'd be here now.
Robert Hard has been a professor in UT San Antonio's Department of Anthropology for more than 30 years and he's fascinated by the transition Native Americans made from hunting and gathering to farming. Seven or eight years ago, he was working in New Mexico when colleagues discovered what looked to be the remnants of walls in the York-Duncan Valley while using Google Earth.
Hard, his students and retired BLM archaeologist John Roney found "cerro de trincheras features" — complexes of walls and terraces made with dry-laid stones and cobbles.
They determined that in about 800 BC, indigenous people built more than a mile of walls overlooking the Duncan Valley. Moreover, they found the remains of 16 houses.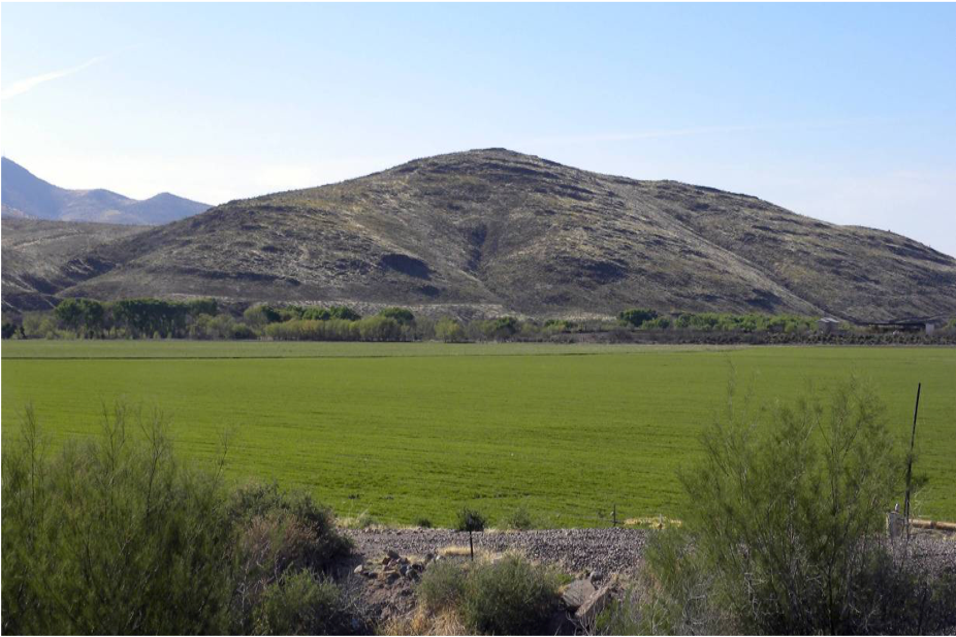 Although Hard is keeping the exact location to himself for fear of people damaging the area, he and his colleagues call the area Round Mountain.
"It's very impressive and it's quite beautiful. It overlooks the valley and parts of the valley that are particularly well-watered," he said. "We think Native Americans lived up there while they began to farm. We think they were living above the river because of the excellent farmland, but we also think there was warfare and conflict so they built this as a defensible location. In any kind of warfare, the high ground is the place to be."
Since scientists obviously have no written documents from the time and no memories of the culture exist, Hard said they are hypothesizing.
Their hypotheses are based on the "tiny bit" of corn, projectile points and grinding tools that have been found.
"We don't have a way of reconstructing who the people were that were attacking, but one thing we know is that when someone has a lot of stored food," they would make an attractive target, Hard said.
They believe multiple families lived in the area, possibly as many as 50 people, Hard said. They didn't stay long, however.
They found more than 40 manos and metates in the area and they showed little wear, he said. A mano is a ground stone tool used with a metate to process or grind food by hand.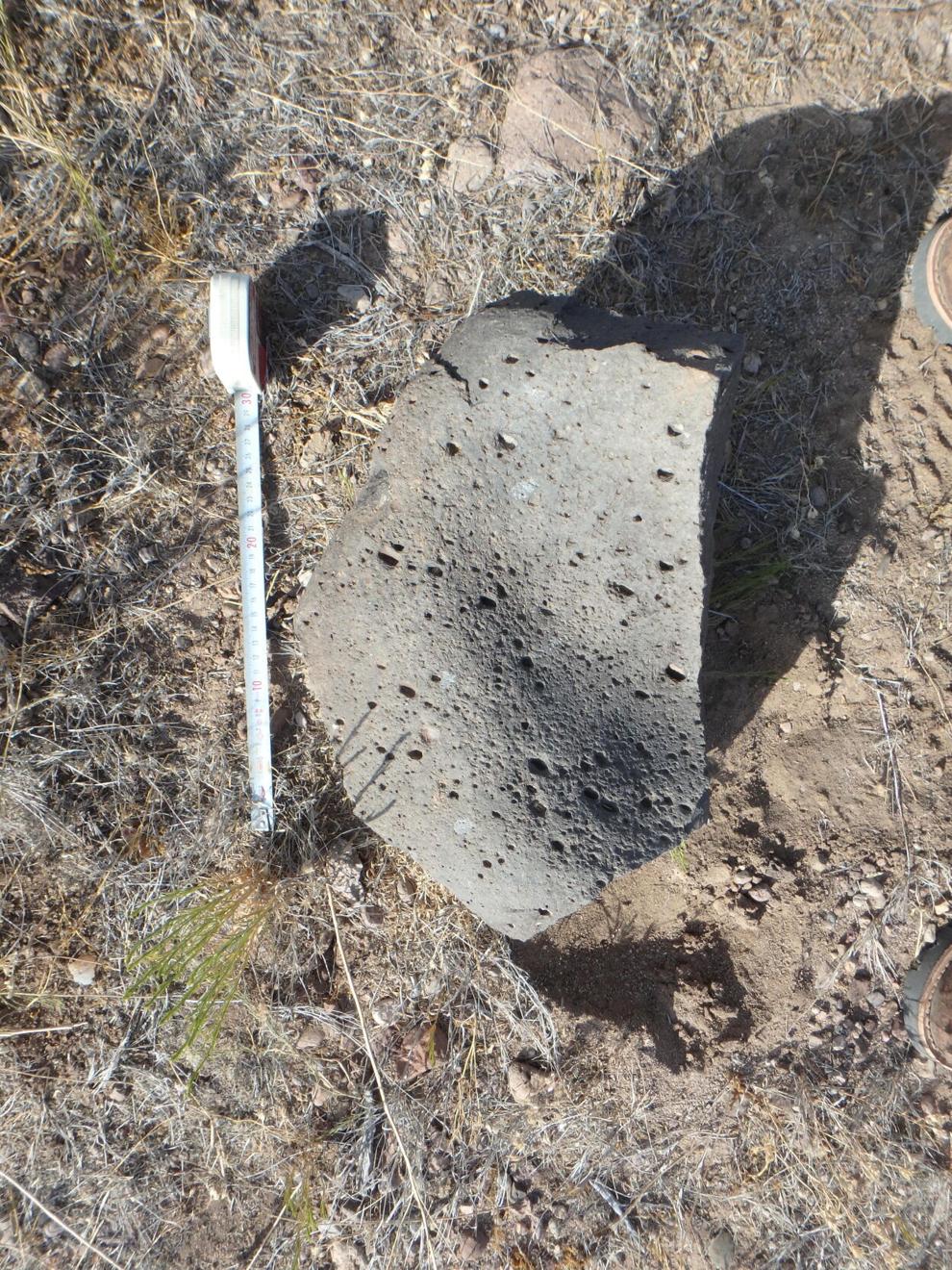 "Judging just by the amount of wear on the manos, they were not there very long, maybe a few months, maybe a few years, but not a long time," Hard said.
What led the group to leave the area is also up for speculation, he said. They could have left because of ongoing warfare or drought or they could have left simply because things grew peaceful and it became inconvenient to haul water, food and firewood up to their homes.
Gila Valley
While working in the York-Duncan Valley, Hard said archaeologists discovered another area of historical significance in the Safford area. (Again, Hard isn't specifying exactly where.)
They found evidence that in 400 AD, Native Americans built a plaza containing about 140 houses and encircled it with a wall.
"It's one of the earliest plazas known in the Southwest or northern Mexico," Hard said. "What that tells archaeologists is the people were coming together and building a particular place for community integration."
Because these people lived so much later than those in the York-Duncan Valley, they made pottery to store food rather than baskets, Hard said. Archaeologists discovered sherds of plain brown pottery, projectile points and debris from making tools.
Safford is a "really interesting place archaeologically" because scientists can see a blending of cultures, including those of the Mogollon and Hohokam, Hard said.
In fact, in 2018 and 2019, Hard said he stayed in the Safford area while Roney kept investigating in the York-Duncan Valley with Mary Whisenhunt, who at that time was pursuing her doctorate in anthropology.
Grad student
Whisenhunt became familiar with the York-Duncan Valley while a student at UT San Antonio, studying under Hard. She received her doctorate in August 2020, after writing a 650-page dissertation on what she discovered in the valley.
While she was a part of the Round Mountain research, she went on to discover or rediscover another 82 prehistoric sites from the Three-Way area to the border of New Mexico.
Twenty-five of the 83 discoveries were the direct result of local residents sharing information, she said. Some had come across pottery sherds in the past or evidence of prehistoric architecture, like lined up cobblestones.
To this day, people can still find bare circles on the ground with gravel surrounding them, evidence of pithouses, she said.
"One of the things that is most interesting is the fact that a lot of the data that we found we would never have found without the help of the residents of Duncan," Whisenhunt said. "This, in so many ways, was a collaborative project with the community and this is something that doesn't happen very often."
In fact, many of the sites were found on private property and yet the residents allowed Whisenhunt, professors and fellow students access to them, she said.
"That's what makes this project really unique," she said.
She recalled how Duncan resident Wilbur Lunt, who recently died, told her a story.
"He remembered playing amongst the Pueblo ruins. He described how the walls would dissolve in the rain and what that suggests is that the walls were constructed with what we call puddled adobe. And that is one of the signature characteristics of Salado architecture," Whisenhunt said.
They had to obtain permission from the BLM, the State of Arizona and Freeport-McMoRan to visit other sites, she said.
For her dissertation, Whisenhunt set out to discover where people lived and how it ebbed and flowed throughout the years. She also showed how it compared with prehistoric settlement patterns found in the Mimbres Valley and Redrock Valley in New Mexico's Upper Gila River Valley. In addition, she looked for evidence of social relationships with outside groups. For example, she found pottery sherds from other areas in Duncan.
She studied sites from 3000-1000 BC or the Late Archaic period up through the Salado Period of 1200-1450 A.D. Most of the sites were new discoveries, but some had been found in the early 1920s, she said.
Eighteen of the sites she studied showed they'd been occupied multiple times over the years.
In her dissertation, Whistenhunt wrote, "The Upper Gila River Valley in southeast Arizona may be one of the least understood areas in the U.S. Southwest, in part because much of its archaeological record has been obscured by extensive pot-hunting and the destruction of many sites for agricultural or development purposes."
Future endeavors
Whisenhunt and Hard are both in the process of writing more about their discoveries. Whisenhunt is writing an article and Hard is writing a chapter in a book for fellow archaeologists.
"We are, indeed, sort of writing new chapters in Arizona archaeology by doing the work out there," Hard said.
Hard said he intends to bring his students back to the York-Duncan Valley once epidemiologists render it safe to do so. Whisenhunt will be back in July to give a talk, possibly at the Simpson Hotel, where all of the archaeologists and students stayed while conducting their research.
While people who have battled COVID-19 and lost loved ones to the virus have obviously suffered far more, Hard said the pandemic has been frustrating for him and his students.
"I think the biggest frustrations have been for the students because the students need the training and they need to be in the field to get their degrees, to write their masters' theses and dissertations," Hard said. "It's frustrating for me not being in the field, too. I really enjoy the people in the Duncan Valley. Everyone is so wonderful and so interested. The people in the Safford Valley, too, and the BLM."