Jerry Marrion had an important piece of history boxed up for more than 35 years.
It wasn't until he and his wife, Norma, were preparing to move back to South Dakota that he came across it and realized he should get it into the right hands.
The nine-minute audiotape was recorded in 1945 aboard a B-29 on a bombing run over Japan. It gives voice to a World War II crew that a short time later was lost forever.
Today, Marrion's tape is part of a museum exhibit in Pratt, Kansas, on the site where the crew trained at Pratt Army Air Field.
The audio is among several historic treasures Marrion found a place for shortly before he sold his Southern Arizona home of 34 years in December.
Jerry Marrion, 79, has always been a history buff, with a particular interest in World War II. In 1972, the Navy veteran began collecting and trading audiotapes of historic events and people along with some of his favorite old-time radio programs.
He belonged to tape clubs, where members would "swap cassettes left and right," Marrion said. Call up a club member, cut a deal and put it in the mail. It was a low-tech equivalent of downloading a computer file today.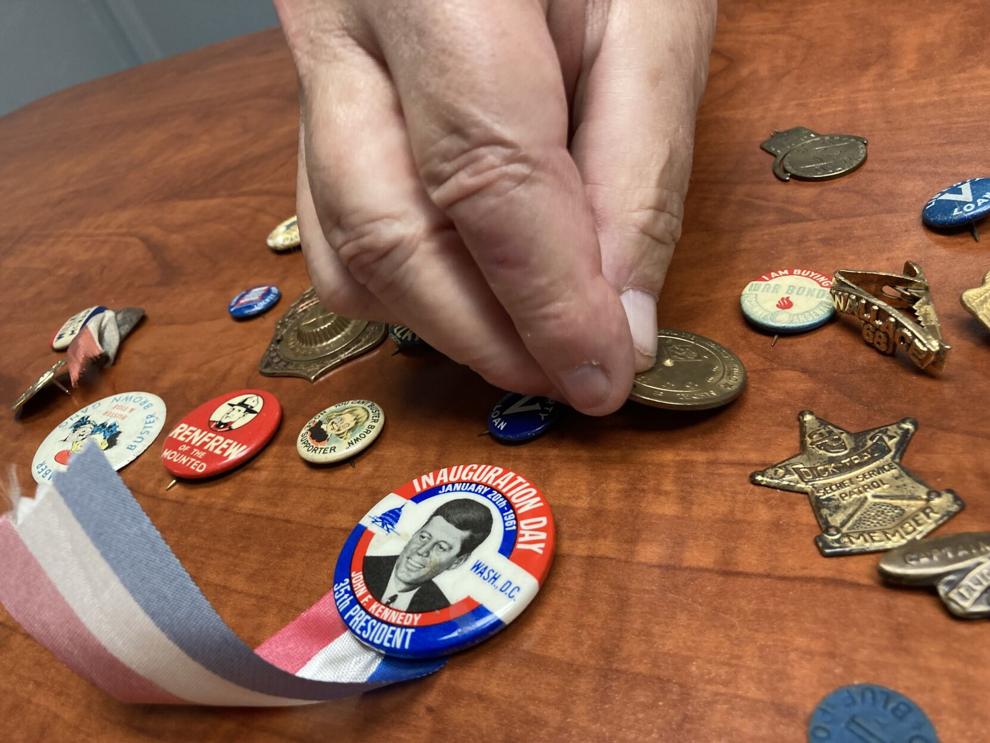 The hobby allowed him to listen in on history — two 91-year-old Civil War veterans recounting the 1865 surrender at Appomattox Court House in a recording from 1938; Florence Nightingale remembering old friends who served with her in the Crimean War; young Marines interviewed by Bob Crosby, Bing's brother, after the Battle of Saipan.
"It's a chance to step back in history and hear the real voices, the real people — like Tokyo Rose, Axis Sally, Lord Hall, Col. Britton, FDR, Day of Infamy, the gas rationing… This is what we did when we were kids, we listened to the radio," Marrion said. "You'd come home from school and there was a retinue — you'd listen to Sergeant Preston, Little Orphan Annie, Dick Tracy, Superman, Hopalong Cassidy, The Lone Ranger. All these programs were nothing but sales tools to sell you cereal, and I have the old decoder badges — Capt. Midnight, Orphan Annie."
He traded for plenty of those, too.
But it was the B-29 recording that struck home with two brothers who run a small museum in the heartland.
Finding a home
Marrion doesn't recall how he came across the recording of the bombing mission over Nagoya. It was probably on a tape with something else he wanted — common with tape clubs. Trade for one and get everything else on the tape.
He ended up making a composite tape that told the story of WWII. Then he pretty much forgot about it. When he came across it years later, he knew a museum might be interested. But which one?
"I started trying to find a B-29 museum and they were the first ones to come up," he said of the B-29 Museum in Pratt, Kansas, 75 miles west of Wichita. "Pratt was the place of origin for the B-29s."
The museum isn't big — it measures annual visitors in the hundreds, not thousands — and it's open just two hours a week, on Sundays, or by appointment.
But brothers Milt and Mark Martin, who help operate it in the renovated parachute building, knew they had a special connection with Marrion's recording the minute they heard it.
"He mentioned the crew name and the light bulb went off, and we said this is the crew that trained at Pratt," Mark Martin recalls.
And the museum had detailed records on the fate of its 11 members.
The recording
Marrion still wonders why the recording was made and marvels at how it landed in his lap, then in the museum, over a period of 76 years.
Nobody is sure who the narrator is. It's most likely an Army Air Corps senior officer or somebody from an information unit. But it's a good guess he has combat experience; throughout several hair-raising minutes his voice remains steady as he explains what's happening. Nothing rattles him.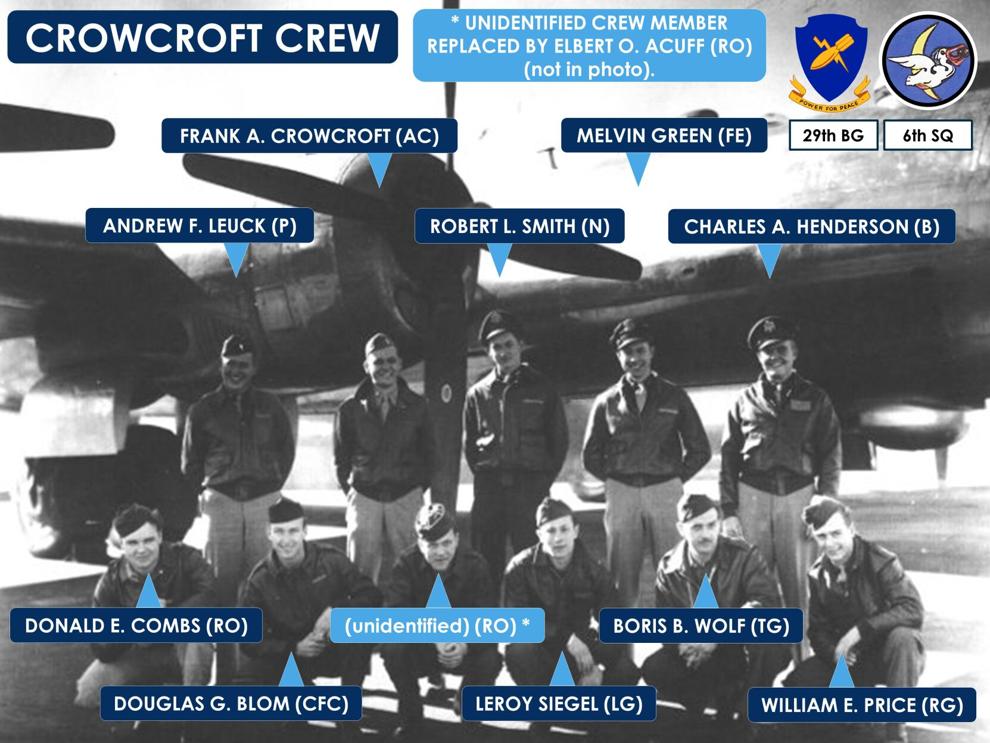 They are on a daylight mission with the Crowcroft crew of the 29th Bomber Group, headed to Nagoya.
"The weather remains crystal clear, a beautiful, sunny day," the narrator says, as he moves into a description of the "peaceful, pastoral" Japanese coastline. Then, at about 19,000 feet, it quickly heats up.
"Things are too peaceful and we are uneasy. Tension among the crew is high but everybody's calm."
He tells us there is an unidentified plane at 2 o'clock. It is keeping pace, "probably using his plane to radio our position."
"Our giant bomb bay doors have just yawned open," he says. "An unidentified plane, a fighter, is still tagging along parallel with us."
He sees another fighter at 1 o'clock and another at 2 o'clock.
"Our bombardier is hunched over his delicate instrument now. Everyone is holding course."
"We are running into a curtain of anti-aircraft fire at the present time," the narrator says without a trace of concern in his voice. There are bursts of weapons fire followed by the sounds of spent shells hitting the deck of the plane as the 11-man crew engages.
Another fighter at 11 o'clock.
"As you hear this plane jar in our microphone it's our gunners going after the fighters coming in. We're trying now to dodge the anti-aircraft… another burst from our guns. Another fighter 4 o'clock high. Our tail gunner is after him."
With the bombs dropped, the bombardier stows his instrument and mans a gun.
"We got him!" a crew member calls out.
"We got him," the narrator repeats in an even voice. "We got him."
"There goes a fighter to our right, spiraling down, smoking."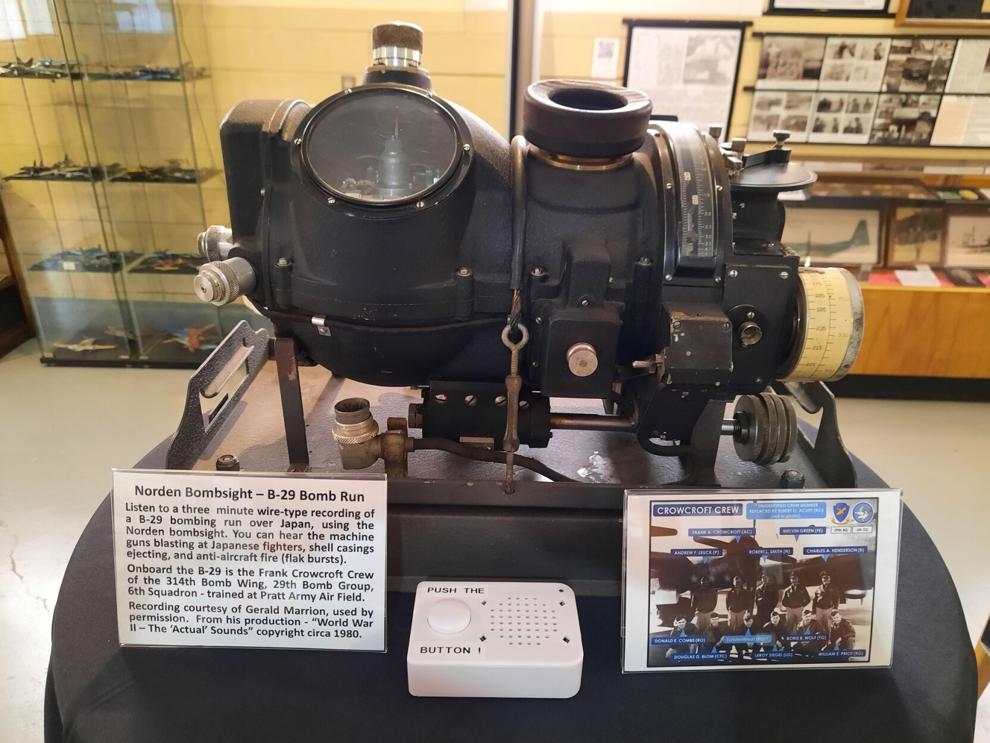 Marrion's donation was the first time the museum had run across a wire recording — the only portable way to make a recording in those days. Martin calls the quality superior.
In about two weeks, the museum incorporated it into an exhibit touting its newest acquisition — a pristine Norden Bombsight, what Martin calls "one of the biggest secrets of the war."
The sight was positioned in front of the bubble on the B-29 and the bombardier would use it to drop bombs with much more accuracy. On good days, it got within 75 feet of the target. It's the instrument the bombardier was using in Marrion's audio recording.
Marrion's tape was edited to about three minutes and added to the exhibit on Nov. 1, along with a placard noting his contribution. A member of a group touring the museum on Veterans Day said hearing it raised the hair on the back of her neck, Martin recounted.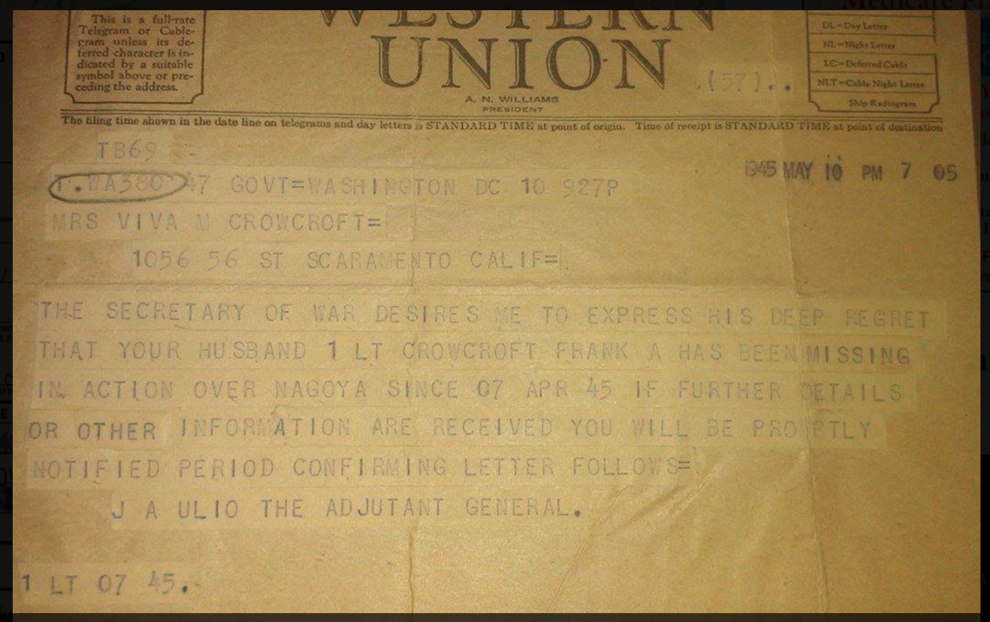 Nobody knows which mission the crew was on the day of the tape, but documents at the museum show it went down on its fifth mission on April 7, 1945. The bomber was rammed by a suicide fighter over Nagoya and "turned over on its back and went into a flat spin engulfed in flames," according to records. The B-29 was hit 30 seconds before it was to release its bombs.
Aircraft Commander 1st Lt. Frank Crowcroft and seven crew members of the 6th Bomb Squadron died; three others were captured and mistreated by Japanese soldiers and civilians before they were imprisoned and later released. Crowcroft was 24 and had a wife and 3-month-old daughter.
Marrion is glad that the decades didn't forget the Crowcroft crew and that the tape is in the possession of a museum that already knew so much about them.
"These crewmen live again," he said, "if only on an audio recording."