John McCain, whose storied life took him from the cockpit of a Navy fighter jet to a 35-year career in Congress died Saturday, Aug. 25, 2018, 13 months after he was diagnosed with an aggressive form of brain cancer. He was 81 and would have turned 82 on Aug. 29.
Doctors at the Mayo Clinic in Phoenix diagnosed a glioblastoma tumor after surgery in July 2017 to remove a blood clot above McCain's left eye.
"Some say 3 percent, some say 14 percent," McCain said of his chances for survival in a September 2017 interview with 60 Minutes. "You know, it's — it's a very poor prognosis. So I just said, 'I understand. Now we're going to do what we can, get the best doctors we can find and do the best we can, and at the same time celebrate with gratitude a life well lived.'"
On Friday, Aug. 24, the day before he passed away, his family announced he was discontinuing treatment, saying, "the progress of disease and the inexorable advance of age render their verdict."
His wife, Cindy McCain, wrote in a tweet Friday, "I love my husband with all of my heart. God bless everyone who has cared for my husband along this journey."
McCain returned to the Senate shortly after the diagnosis, casting the deciding vote to end an attempt by Republicans to repeal and replace Obamacare. He continued to seek care, eventually using a wheelchair in the halls of Congress. He returned to Arizona on Dec. 17, to recover from the side effects of chemotherapy after missing three days of votes in the Senate. He never returned to Washington, D.C.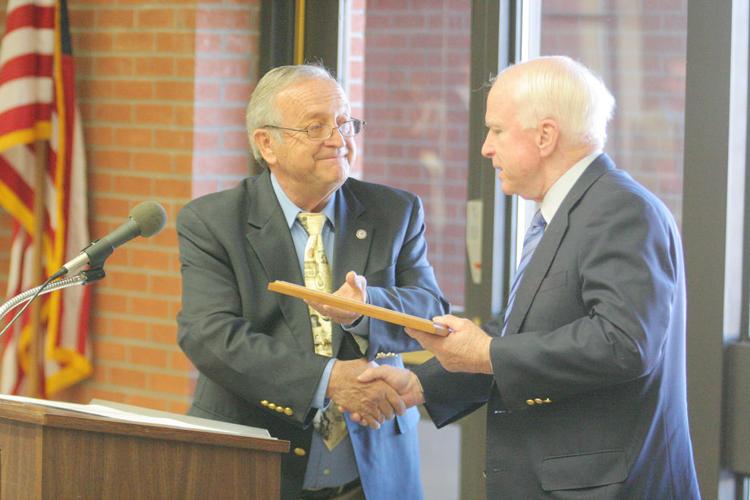 McCain made several trips over the years to the Gila Valley for town halls and other events, always welcomed with open arms.
His last public visit to the Gila Valley was in February 2014 for the Lincoln Day Luncheon, when he spoke to the Graham County Republican Party and received the Lifetime American Patriot award.
He spoke on the need to come together.
"There's got to be a return to some kind of belief that people can have different views," McCain said. "(It) is unfortunate that we can't get our Republican Party to spend time really competing against our adversaries rather than condemning ourselves. And I say that, obviously with great pain, because of what just happened to me," referring to a state party censure.
John Duane Rhodes, the county party chairman who presented the award to McCain, said on Facebook, "My heart goes out to Senator McCain a true friend and to his family with appreciation for your selfless service to our nation. What an American patriot; may God bless you all."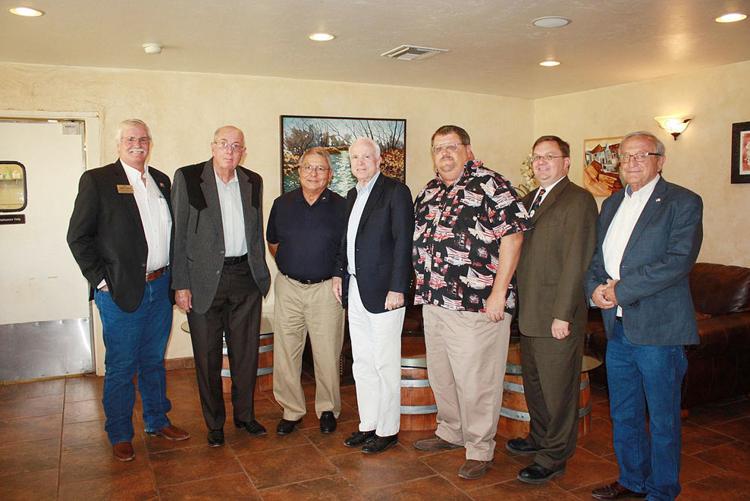 Respect for McCain crosses party lines
Statements of support and condolences from officials from both sides of the aisle showed the respect McCain had in Congress and across the state.
"Senator McCain held himself to the highest standards, and he is a model of leadership through true public service. His legacy is that of a fighter who always put his country and the American people first. He was well-known for reaching across the aisle, putting party aside to try to solve the challenges our nation faced. He had foresight and tackled tough issues head-on," said U.S. Rep. Tom O'Halleran, D-Ariz. "It has been my deepest honor to have known Senator McCain for nearly 20 years and to have worked with him on issues important to our state and the American people these past two years. Senator McCain will forever be remembered as a hero."
"John McCain was one of Arizona's greatest Senators, one of our country's finest statesmen, and an American hero who risked his life to defend this great nation. He loved this state, and he loved this country. I pray that God comforts Cindy and the entire McCain family. My heart is with them, and Arizona grieves with them," said U.S. Rep. Martha McSally, R-Ariz.
"Arizona will never be the same. Senator McCain, may you rest in peace, and may comfort come to your family. May comfort come to all of us who grieve this loss to our great country. You are a statesman, a patriot, and our Arizona hero," said U.S. Rep. Kyrsten Sinema, D-Ariz. "John McCain's legacy will continue for generations to come. His commitment to our country, to the pursuit of freedom and truth, and to the values we hold most dear as Americans, have been an inspiration to us all. Senator John McCain's mark on our country will never fade. Thank goodness."
"John McCain is one American who will never be forgotten. He was a giant. An icon. An American hero. But here at home, we were most proud to call him a fellow Arizonan. Like so many of us, he was not born here, but his spirit, service and fierce independence shaped the state with which he became synonymous," said Gov. Doug Ducey. "He once told us, 'We're Americans, and we never give up. We never quit. We never hide from history. We make history.' "
State Senate Democratic leader Katie Hobbs said, "Arizona has lost our maverick. From war hero to statesman, Senator John McCain's life story is a legendary and quintessentially American one. His was also a classic Arizona story of reinvention and opportunity, where a scarred East Coast sailor found reinvention and opportunity in a dry desert valley."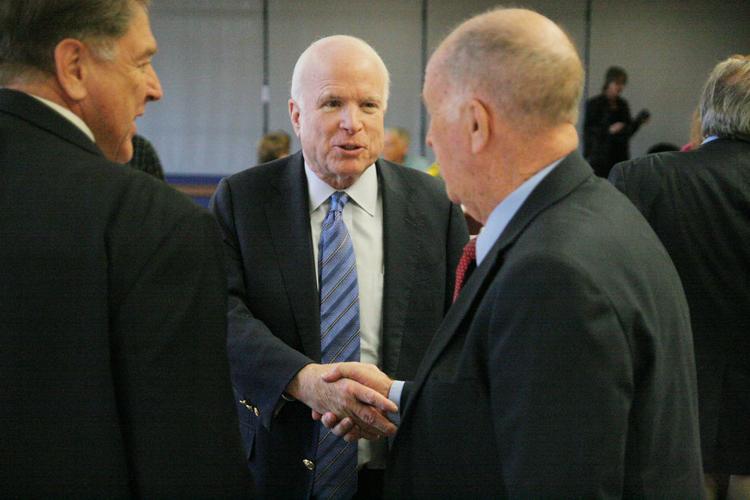 McCain was born Aug. 29, 1936, at Panama Canal Zone Naval Air Station. His father, Navy Admiral John McCain Sr., died in 1981, and his mother, Roberta, is 106 years old and lives in Arizona.
He attended the U.S. Naval Academy, famously graduating 894th in a class of 899. Despite that, he trained as a naval aviator and requested to fly in combat.
McCain was shot down over Hanoi in October 1967, while on a bombing mission and spent more than five years as a prisoner of war, during which he was routinely tortured.
He retired as a Navy captain and moved to Arizona in 1981; he was elected to Congress in 1982, then to the Senate in 1986, succeeding Barry Goldwater. McCain never had what could be considered a close election.
During his 35 years in Congress he served on several key committees, chairing the powerful Senate Armed Services Committee. He was among the most outspoken members, often chiding his own party and earning the desigation "maverick."
McCain was the GOP nominee for president in 2008, with Sarah Palin as his running mate. They lost to Barack Obama and Joe Biden, 53 percent to 45.7 percent, or about 9.5 million votes.
He also ran for president in 2000, and had a surprise win against George W. Bush in the New Hampshire primary. But, behind in delegates in what turned out to be a bitter and brutal primary campaign through the South, he withdrew after Super Tuesday results a month later.
McCain divorced his first wife, Carol Shepp, in 1980, and married Cindy Hensley later that year. He is survived by his wife, Cindy, and seven children.
McCain adopted the two sons of his first wife, Doug and Andy; he and Carol Shepp had one daughter together, Sidney. McCain had two sons and a daughter with Cindy — Meghan, Jack and Jimmy; and they adopted a daughter from Bangladesh, Bridget.