GRAHAM COUNTY — Off a winding, sometimes rocky, dirt road into the lower Pinaleno Mountains, a small building stands alone. As he drove, Bill Dobbs explained that it was once a dynamite shack, used in road construction projects.
Dobbs and other members of the Gila Valley Hiking Club were bound for Rincon Spring Trail, in the Marijilda Canyon area, that January morning. A four-mile round-trip hike, it was one of the club's two monthly outings.
The Gila Valley Hiking Club got its start in April 2014, when 22 people attended its first meeting at Discovery Park's Circle D Ranch House. Since then, its members have traversed mountain and desert trails throughout the Pinalenos and beyond the Gila Valley.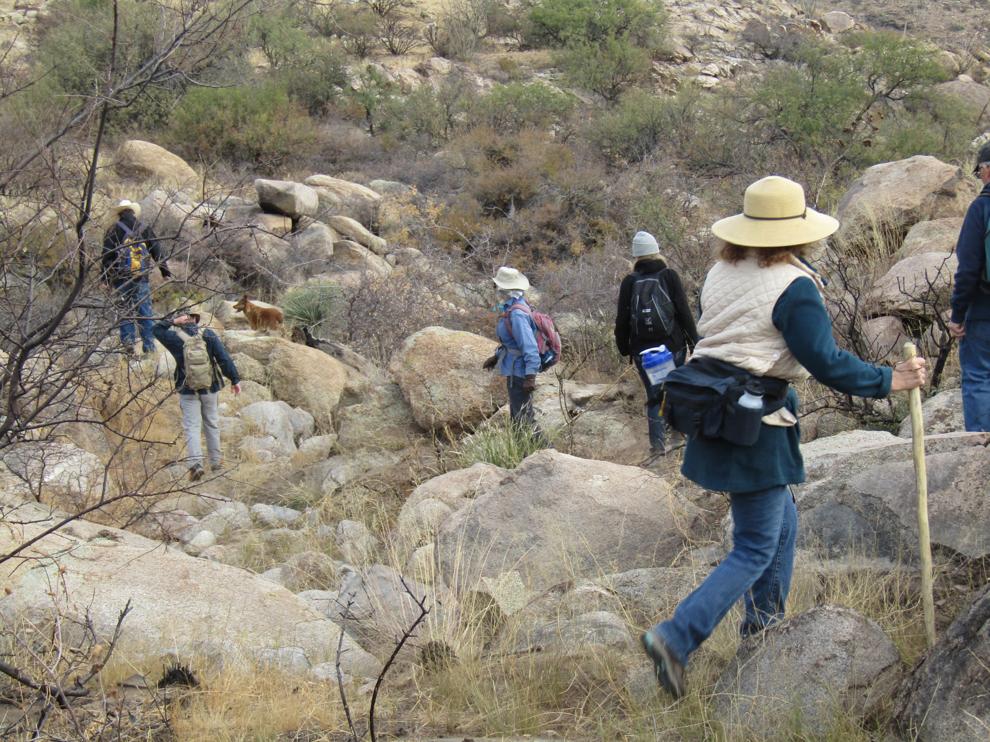 "It took a couple of months for us to put together our bylaws and to really understand what the community was looking for in a hiking club," said founder Charmayne Dobbs. The club's purpose is "to promote understanding, appreciation, preservation and enjoyment of the outdoors."
Club president Doug Syfert, then an assistant scoutmaster with the Boy Scouts, was at that first meeting.
"Charmayne was a board member of the troop, and both of our sons were Scouts," Syfert said. "When I became a scoutmaster, I promoted a lot of hikes for the boys and planned a few spring break backpack trips. Charmayne and her husband, Bill, would go on those as well. When she came up with the idea of a hiking club, she put out the word to a lot of people, including me."
Syfert's interest in hiking was sparked by a trip to Peralta Canyon in the Superstition Mountains.
"When I was a kid, and my dad and brother and I were part of a father-son organization, that was an outing that we did. I must have been 10 or 11, and that hike caused me to fall in love with hiking. It was really amazing, beautiful desert country," he said.
After a steep initial climb, the Rincon Spring Trail heads over hills and across washes to a creek bed below Deadman Peak. Rock cairns mark the way for hikers, and large chunks of white quartz dot the trail. The Gila Valley stretches out below; the view includes Lebanon Reservoir, tucked away behind several small mesas.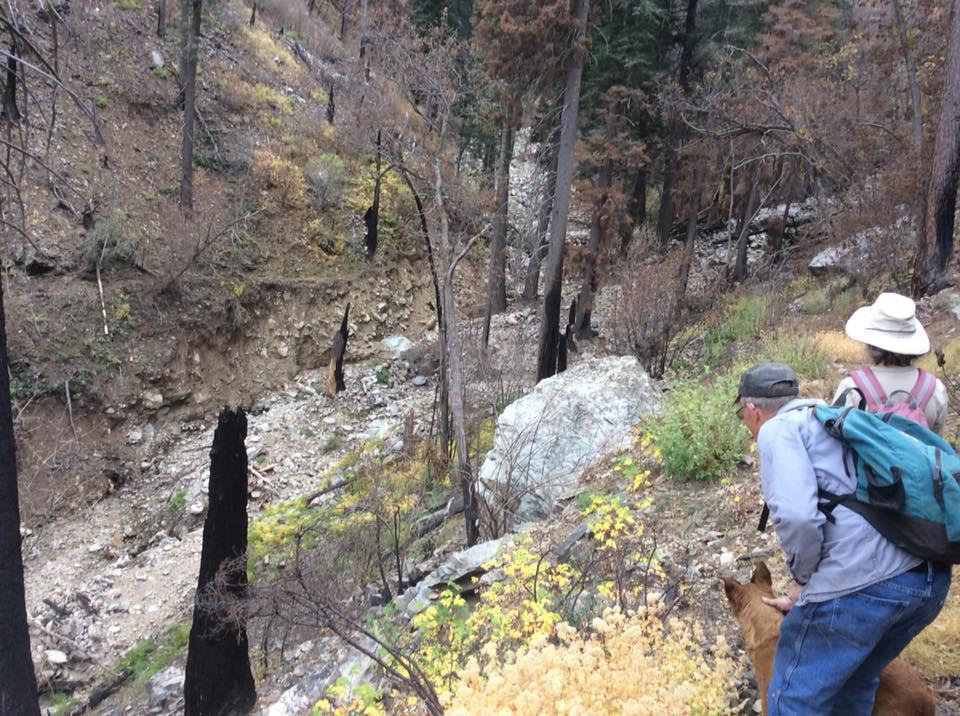 "The GVHC has had some great outings in the last year," Charmayne Dobbs said. Its hikes have included Blue Jay Trail, Bear Canyon Trail and a trip to Columbine Mill and Webb Peak Fire Lookout. But those came before the summer of 2017.
In addition to quartz fields and valley views, Rincon Spring Trail is marked by charred trees and yucca plants, burnt prickly pear and barrel cactus. It was among the 48,000 acres ravaged by the Frye fire. Six months later, however, there were a few signs of recovery. At the base of one blackened scrub oak, green leaves had sprung up.
Due to trail closures after the fire, the GVHC has expanded its horizons.
"Our options for hiking on Mount Graham have been reduced, so we're having to reach out and look at what else we can find in southeastern Arizona," Charmayne Dobbs said.
Outings have included the Chiricahua Mountains, Deer and High creeks in the Galiuros and Seep Canyon Trail in the Clifton area. The club has explored fossil fields in the Whitlock Mountains and ancient petroglyphs in southwest New Mexico. It also makes an annual "fall colors" trek to Ash Creek in the Galiuros.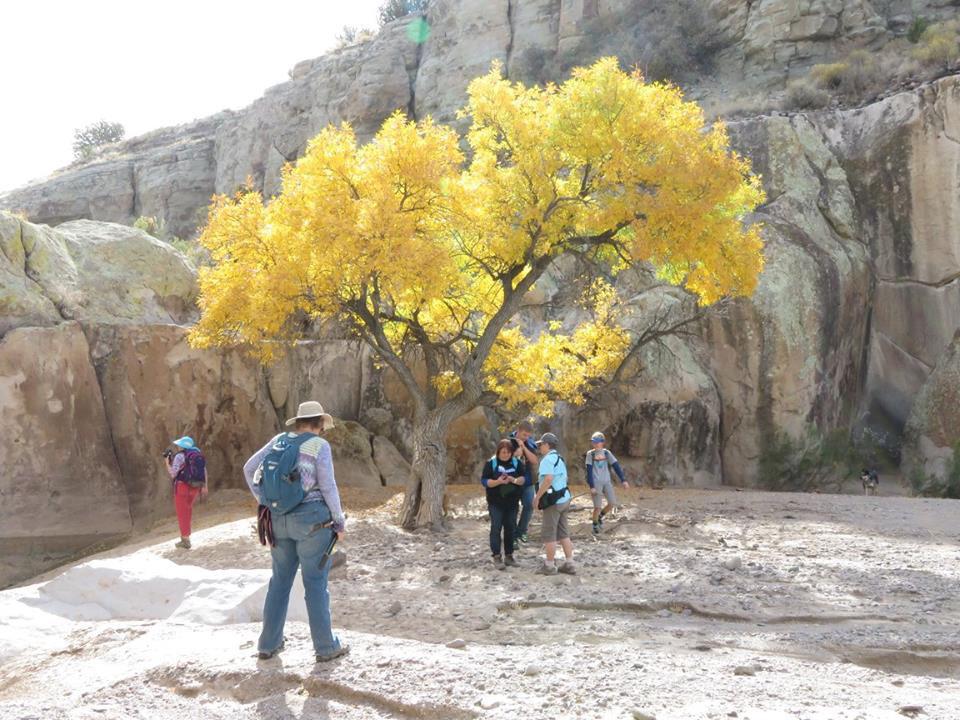 Peralta Canyon was among the club's 2018 scheduled destinations, along with the Morenci Southern Railroad, Angle Orchard and the Black Hills Box Canyon Arch.
Trail upkeep, in partnership with government agencies, is another GVHC goal.
"In our first couple of years, we had opportunities to help with trail maintenance," Charmayne Dobbs said. "We built erosion control devices, helped with eradication of invasive species and had several opportunities to try and improve hiking opportunities within the Gila Valley area."
"Occasionally people will bring things like loppers and small saws on the hikes, and if there's vegetation in the way, we'll knock out some of those," Syfert said. "Probably most of the trail work involves cutting back brush and cutting logs that are blocking the trail."
The club has also partnered with the U.S. Forest Service, through a grant, to buy trailhead signs for Round the Mountain Trail, Shannon Campground and other Mount Graham locations.
Ken Showers contributed to this article.