Fourteen months after a Solomon toddler died as a result of a skull fracture, the Graham County Attorney's Office has filed a first-degree murder charge against his father.
Aaron A. Garza is facing one count each of first-degree murder/domestic violence, child abuse/domestic violence and aggravated assault/domestic violence.
According to Graham County Sheriff's Office reports, deputies received a 911 call around 11:30 p.m. Nov. 15, 2019 about an 11-month-old baby who had apparently choked on a Pringles chip and had stopped breathing.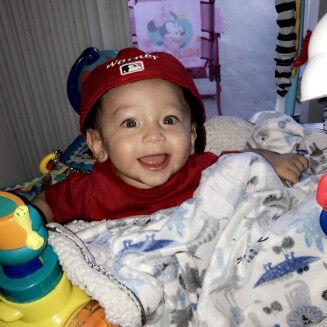 Deputies, emergency personnel and hospital doctors said they all saw several bruises on AJ Garza's face that evening and he was pronounced dead three days later at a Tucson hospital. An autopsy revealed the toddler had suffered an 8.5 cm skull fracture, retinal hemorrhage and trauma to his spinal cord. His death was ruled a homicide due to blunt force trauma.
The baby's mother, who was 21 at the time, told deputies she and Garza, then 26, shared parenting responsibilities for AJ and AJ's older sister, then 2, but were no longer a couple.
According to sheriff's office reports, she said she had both children with her from the early morning hours of Nov. 15 until sometime after 1 p.m. when Garza took them to watch at his home on South Cheyenne Drive in Solomon.
She said she last saw the children shortly before 8 p.m. when Garza and the children picked her up at home and then dropped her off at her job in Safford. She told authorities that while AJ had a fading bruise on his forehead, he was otherwise fine. Other relatives also said the toddler was fine prior to Garza picking the children up earlier that day.
According to sheriff's office reports, the family had been investigated by the Arizona Department of Child Safety twice prior to the toddler's death and both cases had been closed. In one instance, one of the boy's femurs had been broken after Garza said he tripped and fell on top of the boy several months earlier. In the second incident, the boy suffered a head injury when Garza said he failed to strap him into his car seat and he fell out after being left unattended.
During several interviews with authorities, Garza said his son, who was not yet fully walking, had a habit of hitting his head on furniture. He also said AJ had fallen off the couch the night before he died, striking his head.
Later, Garza told deputies that on the same night AJ fell off the couch, he accidentally caused the boy's head to hit a door frame when he suddenly turned to check on his daughter, according to reports.
In later interviews, Garza said the incident with the door frame happened after he'd dropped the children's mother off at work Nov. 15 and within an hour of him calling 911 to say he thought his son had choked on the potato chip.
According to reports, doctors have told authorities the extent of the toddler's injuries are inconsistent with Garza's version or versions of events.